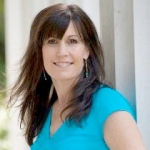 With four kids, ages 13 to 21, Colleen Bushby has her hands full as a single mom. Divorced for 8 years, Colleen is all about making her life, and the lives of other divorced women, "better, not bitter." She remembers walking out of divorce court, after almost 15 years of marriage, feeling afraid, overwhelmed and lonely. But standing on the courthouse steps, she decided to regain control of her life and find the strength to create her own happiness for herself and her children. "I was determined to turn my pain into power, security and a sense of direction."
Colleen had spent 15 years in the interior design business when she realized she was no longer fulfilled redesigning living rooms; she wanted to help redesign lives. After intensive training, she became a professional small business and life coach. Over time she found that many of the clients she was attracting were divorced women and with her own experiences she knew she could help empower them. Colleen's ah-ha moment came as she was stuck in traffic on Highway 95 thinking about the new direction she was taking her coaching practice. It was then that Savvy Divorced Chicks came to mind and her new venture was born. Initially wanting to write a book, Colleen went to the web instead. She knew she had found her purpose helping women through their own divorce transitions.
With very few friends who were divorced, Colleen herself had looked for a network of women who shared her experiences, as well as resources for life as a single mom. Not finding that, she created it. In providing resources and information for divorced women, Savvy Divorced Chicks focuses on what Colleen calls the Five Savvys. These are the areas of life divorced women need to focus on: Inner Savvy, Outer Savvy, Financial Savvy, Professional Savvy and Relationship Savvy. Her website offers a blog; a free guide, a newsletter; and CDs of inspirational talks and live events; and an internet cafe.
In addition, Colleen hosts two weekly radio shows on Blog Talk Radio. Her Savvy Divorced Chicks Radio Show features weekly guests who speak to her Five Savvys. Each week Colleen features guest experts, including authors, speakers, coaches, and professionals from each area. Colleen is also a co-host of the Single Parenting Exposed Radio Show with a divorced Dad of two daughters where they address topics relevant to single parenting in a "he said, she said" format. Colleen & Kevin Kullander answer questions from single parents based on their 23 years combined experience of being single parents. Their answers are never scripted, just a sharing of what's worked (or didn't work) for each of them.
Colleen says, "Divorce is never good for your self esteem, before, during or after regardless of why. I want to provide a place for positive connections and supportive resources and to share a blueprint for how to move on with your life after divorce. I get such an awesome feeling when I can empower another woman." Already providing online webinars and virtual retreats, Colleen is planning an upcoming live Savvy Divorced Chicks Retreats focusing on each of her Savvys to give women the tools to continue to move forward in all areas of their lives after divorce.
Contact www.SavvyDivorcedChicksBlog.com, [email protected]
VentureMom Tip
When life gives you lemons, make lemonade