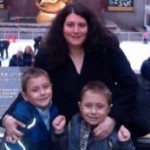 When she saw a new trend in an old business, she pounced. Caterina DiLorenzo has always had a passion for baking, making fabulous cakes for various events for friends. As an attorney and then a teacher, she didn't have much time for her favorite hobby. But when she moved back to Stamford and became a stay at home mom to her seven year old identical twin boys, she went back to her love. But how to make herself stand out?
Perusing through magazines, cake pops were everywhere and Caterina felt this was a new trend in the cake world. "I saw them and I just knew this was what I was going to be doing next, they're the new cupcake. Starting a bakery was too much, but cake pops – they seemed so easy, cute and fun." With her teaching experience, Caterina works two and half days a week, but on the other days – she is in the kitchen.
Gathering the supplies and experimenting, Caterina developed several delicious varieties of cake pops – vanilla, chocolate, red velvet and carrot. Sharing them with friends, the feedback was great and the pops were a hit. Her first order came in April 2011 from a friend who was having an Easter gathering and ordered two dozen.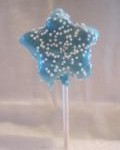 Now it was time to spread the word and Caterina felt networking was key. Joining several local groups for moms in her community – CT Moms, Moms of Lower Fairfield Country and No Drama Mammas and Pappas of Fairfield County – she was able to share her venture with her target audience through these gatherings. She also supported these groups by advertising in their newsletters. With cake pops being so popular, she was covered by local news services and was even featured in two local circulars.
Caterina turned to Facebook next, to expand her following. Now she was cooking! Pricing her basic pops at $1 each and more for cellophane wrapped pops, she was on the map for a hot item. She niched herself with pops, but also does cakes and cupcakes. "Chocolate covered pretzel rods are dipped and decorated to client's specifications. Those were a hit this Christmas," says Caterina. However, by focusing on a trendy item in an old service, she was the baker who got the call. Her name even says it all, Cat's Cake Pops.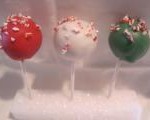 Delivering delicious pops for birthdays, baby showers, bridal parties, holiday gatherings, Caterina even had a large order providing cake pops as wedding favors. She finds herself busy around the holidays when parties are plentiful and says, "I might think about scaling up but right now I'm happy with my time commitment and I love the flexibility."
She's working on a web site but with her presence on Facebook alone, Caterina has orders from all over the country including St. Louis and California. That shows the power of networking, Facebook and recommendations. She even offers decorating parties. "Due to the popularity of shows like Cake Boss, I get requests for cake decorating themed birthdays and Mom's Night Out parties."
Her boys are proud of the venture and brag to their teachers about their mom's business. Caterina says she has an entrepreneurial spirit but was always a career woman. "I never thought I'd be able to create something that I can do around raising my kids." And how do her boys help? "They are the best taste testers ever."
Contact: [email protected], www.facebook.com/catscakepops.
VentureMom Tip
Look at what is trending in a field that you love and niche yourself in that area.