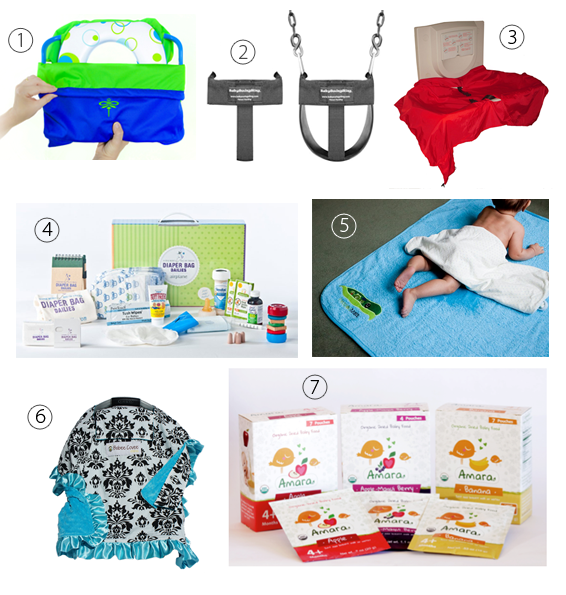 14 Apr

Spring Travel Must Haves

It's springtime!  Say goodbye to the frigid weather and say hello to sunny skies, warm weather, birds chirping and spring travel! When spring fever hits it's the perfect time for a stroll in the park with the kids or for a fun family outing or even vacation. Traveling with kids is not always easy – whether it's every day travel or a family trip – so we found some unique travel must haves to ensure your children are comfortable, germ-free, and entertained while out and about: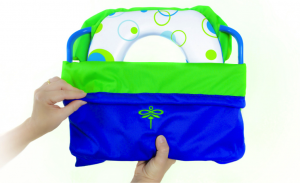 Pack 'n Potty is a stylish, lightweight tote that transforms in seconds into a sanitary toilet seat cover which is attached to a stable potty seat sized for a child.  When placed over any standard toilet seat, Pack n' Potty provides a stable sitting area for a child with a full barrier from toilet surfaces; making potty time stress-free for the child and caregiver. Another feature is a unique wet/dry pocket to store items, such as, wipes, change of clothes, or other items needed for a potty training toddler or young child.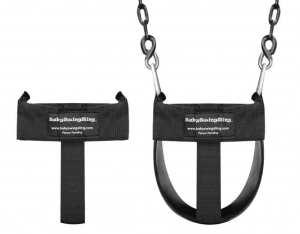 2. BabySwingSling™
Springtime is the perfect time for family outings in the park where kids love to play on swings! Unfortunately, not all playgrounds have swings for infants, and the ones that do have very few. BabySwingSling™ is an award-winning portable swing attachment & swing trainer that converts a standard park swing seat into an encompassing child swing for older infants, toddlers, and young children up to 50lbs. With this solution, parents don't have to wait in line for the baby swings to free up and it gives young children the confidence to learn how to swing like a "big kid".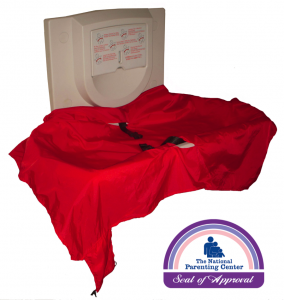 3. Cossettie On-The-Go Changing Mat
This changing mat is amazing! It is small enough to fit in your purse or diaper bag, but large enough to amply cover changing tables while out and about in public. This is the perfect solution to make sure your baby is lying on a clean surface for diaper changing. The extra-large sized mat completely covers public restroom changing tables and is great for diaper changes in the car, on the ground, floor and on a bed – anywhere you need to change a baby. It has a small, attached bag that makes it easy to store and carry around.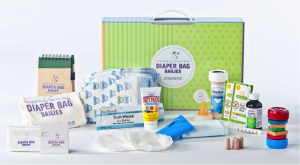 4. Diaper Bag Dailies Airplane Kit
For travel by air, land or sea, this kit comes with extra diapers, wipes, formula, disposables, and soothing items for travel. All sizes available, from Newborn to 1-6. Some ingredients vary by diaper size which correspond to age appropriate ingredients. Choose your brand or type of diapers, and ready-made 2 oz. formula or water (small enough for TSA security guidelines.)
5. PeapodMat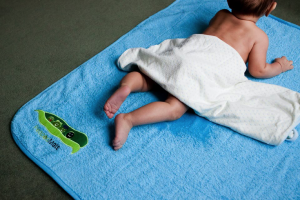 PeapodMats are simply amazing and versatile waterproof mats that are unlike any conventional waterproof mat or cover on the market today! PeapodMats are designed to protect the bed from all sorts of fluids. The big difference? PeapodMats lie flat ON TOP of sheets with a grippy material underneath (WITHOUT flaps, wings, straps or velcro), which means NO more tucking, bunching, or moving. PeapodMats are comfortable and soft to sleep on with no "plastic crinkle" sound or "cold vinyl" feel. PeapodMats are focused on the toddler and schooler age group as they progress through potty training and bedwetting. However, anyone can make the investment in our mat when their little ones are just babies… after all, ALL babies will need to potty train.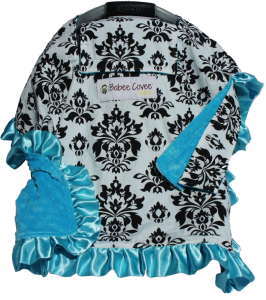 6. Babee Covee
Babee Covee is an award-winning convertible baby blanket and cover that is four products in ONE! It makes daily life with baby easier by eliminating the need to buy, pack and carry bulky single-use items while helping to protect baby/toddler from germs where ever you go. The trendy Babee Covee can be used as: 1) car seat canopy cover 2) stroller cover/blanket and 3) baby carrier blanket, and 4) playtime blanket.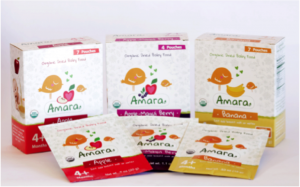 Busy parents know how important it is to always have food available for baby when they're on the go. AMARA makes feeding baby easy with their natural and nutritious baby food line. Simply add breast milk, formula, or water and it's ready for your baby to eat! The lightweight pouch slips into your pocket or purse and is the perfect way to guarantee a wholesome meal for your baby without the hassle of heavy jarred food. It's unique to the marketplace because it's the only freeze-dried baby food, which is the best for preserving nutrients.