Radio Appearances

March 6, 2018, The Debbie Nigro Show, AM 1490, WGCH & WGCH.com
July 28, 2016, Anything Goes  with Kim Berns,  AM 1490 WGCH & WGCH.com
Saturday, May 7, 2016, Startup Nation Radio                                                                                                                         https://startupnation.com/startupnation-radio/happy-mompreneurs-day/​ to hear the replay.                                                      Paul Bologna, Producer, Startup Nation Radio, WJR760 Saturdays 2-3PM
Thursday, March 10, 2016, Women's Watch, WBZ-AM in Boston, MA.
Tuesday, March 8, 2016, iHeart Radio,THIS LITTLE PARENT STAYED HOME with Ally Loprete
November 19, 2015, The Debbie Nigro Show, News Talk AM 1490 WGCH
Tuesday, November 3, 2015, Show: The Entrepreneurs Club
Outlet: WINT-AM / Willoughby, OH
Tuesday, September 29, 2015, Show: Remarkable Woman
Outlet: WATZ-AM, Alpena, MI / WNIC-FM, Detroit, MI / WWCK-AM, Flint, MI / WHNN-FM, Saginaw, MI / WLDR-FM, Traverse City, MI
Friday, September 25, 2015, Show: Business Insanity
Outlet: WIND-AM / Chicago, IL
Thursday, September 17, 2015, Show: Conversations Live, Outlet: BlogTalkRadio
https://www.blogtalkradio.com/cyruswebbpresents/2015/09/17/writer-and-speaker-holly-hurd-talks-venturemom-on-conversationslive
Tuesday, September 15, 2015, Show: Experience Pros Radio Show
Outlet: KLZ-AM, Denver, CO and BizTalkRadio nationally. The interview also streamed live on the Experience Pros website:
Friday, September 11, 2015, Outlet: LocalJobNetwork.com Radio
https://www.localjobnetwork.com/radio/details?rp_id=1114&s.ra_id=1407&s.rc_id=5
Wednesday, September 9, 2015, Show: Late Afternoons with Mike Schikman, Outlet: WSVA-AM, Harrisonburg, VA
Friday, September 11, 2015, Show: Stu Taylor on Business, Outlet: WESO-AM, Lexington, MA / Money Matters Radio Network, MA, RI, CT, ME, NH, VT
Thursday, August 27, 2015, Show: Money For Lunch, Outlet: BlogTalkRadio
https://www.iheart.com/show/53-Bert-Martinezs-Show/?episode_id=27324626
____________________________________________________________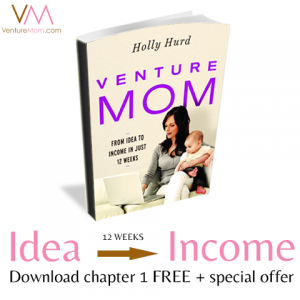 With the explosive connectivity that the internet has delivered, the possibilities for new, more flexible ways to offer value and earn money are ever increasing. The development of micro businesses is therefore a very real possibility as a career option for many. In Venture Mom: From Idea to Income in Just 12 Weeks
, Holly Hurd offers a 12 week programme for how anyone, and in particular mothers, can develop their own venture.
Venture Mom is a good introduction to the idea of being an independent business woman or "Venture Mom" and looks at how other mothers have been inspired to combine motherhood and entrepreneurship, taking what spare time they have to create successful ventures. The book gives the reader 12 chapters of activities and exercises, which could realistically be completed 1 per week, so that they too could go from 'idea to income' in just 12 weeks.  READ MORE
____________________________________________________________________________________________
There is so much small business owners need to know to operate at peak performance. Luckily we live in the Information Age with plentiful resources. To help you sift through some of the data, every week we're going to look at three business books and the lessons you can learn from reading them.
Venture Mom: From Idea to Income in Just 12 Weeks ($17.95)
Holly Hurd is a serial entrepreneur who today runs the online marketplace VentureMom.com. In this excellent book Hurd shares her methods—and those of other entrepreneurial moms—of learning to "do anything you set your mind to." Of course Hurd says you need to be "authentic, passionate and persistent."
Venture Mom is so easy to read. It's filled with tips and success stories that almost all women can relate to. And Hurd provides advice for what she calls "self-starting" moms, whether they want to earn a few extra dollars or build a scalable business.
The book takes you step-by-step, week-by-week into the world of startup. For less than 20 bucks, you're essentially getting a crash course in entrepreneurship. Definitely worth reading.
____________________________________________________________________________________________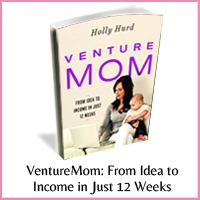 If you are a stay at home mom who is thinking about starting a home based business and you are looking for some good basic advice, you should find this book helpful.
Holly Hurd, author of Venture Mom, has written a basic guide that will take you from idea to income in a relatively short period of time. This book is specifically targeted at women who are looking to start a relatively small business. That is not to say that your business could not grow into a substantial one, but this is not intended as a guide for larger, more sophisticated businesses.
The promise of the book is to go from idea to income in 12 weeks. So the structure of the book is outlining what to do on a week by week basis. There is some very basic but sound advice. Get clear on what you want to do. Do your research. Develop your brand. Find a way to market your product/service.
Along with the detail instructions, Ms. Hurd gives plenty of real world examples of other women who have started very successful businesses.
If you are not sure what you want to do, Ms. Hurd discusses many potential opportunities open to women (and men). You can draw inspiration from the many success stories she shares. At the conclusion of each story is a short "takeaway" or summary of the lesson you should learn about what to do and what not to do.
This is a quick and easy read. There are actually more examples/stories than step by step instructions. But the examples are valuable in showing how the concepts actually work in the real world. Use this book to get you started on the right foot.
___________________________________________________________________________________
In her nuts-and-bolts primer on starting a small business, VentureMom.com founder Holly Hurd
pledges to "demystify the startup process and make it simple and easy t o follow." In her 12-step, 1 2-week
program, she delivers on her promise by covering the basics of a successful startup, such as discovering and naming your venture, developing your brand, pricing your product, getting the product to market, social media strategy, and more. Along with handy checklists and questionnaires, Hurd includes inspirational and instructive examples of mompreneurs who achieved success with a simple business plan and minimal startup funds. And despite the title, the helpful advice is mostly gender-neutral. (August; AMACOM; $17.95)
________________________________________________________________________
September 9, 2015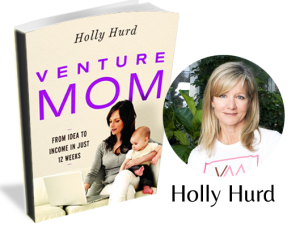 "The book came-to-be because I met so many women who wanted to start their own business and they said, 'How do I do it?'  So, I distilled what I had learned from the hundreds of moms that I've interviewed into a 12 week process," explains this mom-of-three.  "98 percent of the moms I've interviewed didn't have a business plan, didn't have start-up capital and didn't even have a babysitter."
______________________________________________
September 5, 2015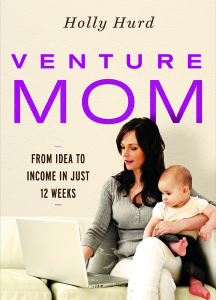 People have so many great ideas and I want to show them how easy it is to take their idea or talent and turn it into a paying business venture. My eyes often glaze over when I hear complicated plans for starting a business and I'm sure many feel the same way. I've distilled the process into 12 no-nonsense steps that can be done in 12 weeks or less.   
Each of my chapters could take an entire book to cover. I've worked to keep the process simple so that by the end of the 12th week, the reader gets their first paycheck. I'm a big believer in learning from others and to that end, I've interviewed over 200 women for my website and learned so much that I wanted to share. Many of these stories are in the book. By reading what others have done to build a successful business, you learn how to translate those ideas for your own use.
______________________________________________
August 31, 2015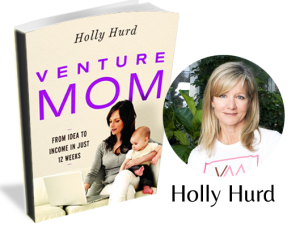 In VENTURE MOM:  From Idea to Income in Just 12 Weeks, Hurd shares her easy-to-follow formula to help moms increase their earning power by recognizing the market value of something they love to do.  Spotlighting the start-up success stories of moms spanning a range of backgrounds and ages – from young moms of toddlers to recent empty nesters – as proof and inspiration, Hurd assures every outstanding mom:  "You can do anything that you set your mind to if you are authentic to who you are, passionate about what you do, and persistent in your efforts."    
_____________________________________________
August 29, 2015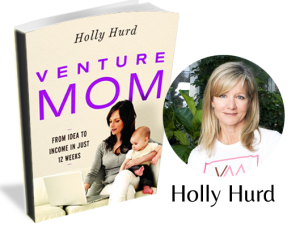 Busy Moms Guide to Hacking Small Biz from the Kitchen
"Venture Mom: From Idea to Income in Just 12 Weeks" is a guide to hacking the business owner for the mom who has a profitable talent or skill, but hasn't unleashed her full potential yet. The book guides prospective "mompreneurs" through the a 12-week program designed to help them plan and market a small business that is centered around their unique abilities, schedule, and personal interests.
____________________________________________________________________________
August 24, 2015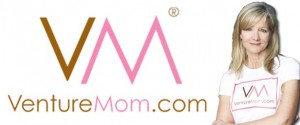 For many people, the decision to start their own business comes easy. They know they want to be their own boss. They know they want the freedom of working for themselves. They know they want to build something that lasts for their families. But the next question is a lot harder. "What kind of business should I start?"
About her new book Holly Hurd says, "In my book, Venture Mom: From Idea to Income in Just 12 Weeks, I go into detail about picking your business, but here are three basic tips to get you started. You can learn more on this subject and how to turn your idea into a profitable venture in my book."
________________________________________________________________________________
Venturemom.com is featured as a top pick in @NYMetroParents incredible (and free!) 125 Summer Ideas fr Family Fun.
"Support local mompreneurs: Go to venturemom.com/shop —a site created by Darien, CT resident Holly Hurd—to browse and buy unique mom-invented products such as Weston, CT-based Diaper Bag Dailies; a line of stylish, un-bunchable shirts from a pair of moms in Rye and Stamford, CT; and personalized gifts from a Bedford mom also known as Mrs. Monogram."
Download at https://nymetroparents.com/125
_________________________________________________________
by Sarah Cody – Mommy Minute
"As we begin to find our footing as moms, we develop some unexpected skills. Maybe we bake the most delicious brownies, throw incredibly elaborate birthday parties or sew beautiful dresses. But how do we make a "venture" out of our new creative talents?
Kim Genzburg of New Canaan became inspired by her sports-loving kids who left a barrage of equipment and cleats in their wake.
"Stuff is everywhere," she says, laughing, explaining the "ah-hah" moment when she designed a unique rack to contain balls, bats and racquets. But she wasn't sure how to proceed. She turned to Venture Mom, a new platform for women in transition, which aims to offer direction, inspiration and resources….
Read more and watch the Fox News feature here.
_________________________________________________________
"As a mom, I love Mother's Day – the one day that it's all about me! As a daughter…well, that's a little more difficult. Every year, I have the worst time trying to find the perfect gift for my mother – or as I prefer to call her, "The woman who has everything and is super-picky about those things that she doesn't have." See my dilemma?
If you have a hard-to-buy-for person in your life, let me make a suggestion; visit the VentureMom site for some gift ideas. This site supports women entrepreneurs by showcasing their products all in one place – you can even buy the items directly from the VentureMom website (shipping is FREE)! VentureMom was started by Holly Hurd, a Fairfield County mom and entrepreneur, who now helps other women from across the country start their own businesses (more on Holly later!)…"
Read more on the Fairfieldista.
_________________________________________________________
_________________________________________________________
"Today, we got the chance to speak with a mom entrepreneur, Holly Hurd – Founder of VentureMom.com. Holly has built a successful online business by highlighting a different Venture Mom on her site and giving people an opportunity to learn about them and their products and drive traffic. She has now created an additional feature and platform for women to be able to sell, advertise and grow their business on her website.
Learn more about Holly and what she has created.
What was your motivation to work from home or start your business?
I've always worked for myself and I met these fabulous women who had started their own businesses too. I first started to write a book to share their stories and then figured out that through the web I could share faster.
So I started VentureMom.com and began to cover a new mom each week.
Taking it one step further is my mission to support these moms and their businesses; I just launched the VentureMom Shop where I showcase the mom products and services…"
Read entire interview here on Freelance Mom.
_________________________________________________________
Do you want to start your own business, but have no clue as to an idea? VentureMom.com is a website where moms can go to get venture ideas and inspiration. Holly Hurd's modo – "No Business Plan, No Babysitter…..No Problem!"
I have been receiving the VentureMom e-newsletter for quite awhile now and I'm always amazed at the stories of how these women, like me and you, got started on their business venture.  VentureMom.com was created by a mom, Holly Hurd, for moms.  Holly says, "In this tough economy their own venture is an excellent way for moms to make extra money doing something they enjoy and something they can do from home.  I've interviewed hundreds of moms who have started their own ventures, their stories are on VentureMom.com for other moms to gather ideas and inspiration…
_________________________________________________________
"Tell us about your business and why you started up.
Every mom I talked with had an idea that they wanted to turn into a business. At the same time, I was meeting so many interesting moms who already had profitable ventures. I saw an opportunity to connect the two groups. I like to write about the path of creating a business venture through each story so readers can see the progression of the mom's business. I started a weekly newsletter to share with my followers.
I cover the story of a new VentureMom each week in an e-letter, on my blog and on the web site VentureMom.com…"
Click here to read more in the MommyPerks.
_________________________________________________________
Holly Hurd, founder of venturemom.com, moderates a discussion panel at Darien Library in Darien, Conn. discussing the hardships and rewards of being a mom and owning your own business.
Photo: Megan Davis / CT
Click here to read more in the Darien News.
_________________________________________________________
When a serial entrepreneur and mother of three sets out to write a book on starting businesses, there's no telling what may happen. But in this case, what happened is called VentureMom.
To call a mother an entrepreneur is redundant. For all the guidebooks and self-help books, for all the collected wisdom passed down over the generations, every child is different, and in the end there really is no guidebook. If raising a child doesn't require a bit of that ol' entrepreneurial spirit, I don't know what does.
(1) Build a venture around something you really enjoy.Your clients will see your enthusiasm for what you are offering. You will never get bored or tired of your venture and every day you will be enthused to wake up and move your new business forward. The most successful businesses have owners who love what they do so much that they don't care if they make a dime and would do it without making anything. Like in real estate investments where the old saying holds, Location, Location, Location, for entrepreneurs, it's, Do what you love, the money will follow. (2) Spend as little money as possible in the beginning. There are so many resources now to create your own simple graphics and web sites  do that yourself to start and then put aside money as you grow to bring in the professionals as needed. Find a way that you don't have to buy inventory and learn to drop/ship from a supplier. Put in your own sweat equity and barter for what you need whether it be painting, a store front, a logo, graphic design find other start ups that want to barter as well. With a cash outlay of as little as possible you'll be in the black that much sooner. (3) Build on your family and friends network. So many small businesses get advice and resources from a network they already have. Use email to reach out to everyone you know and tell them what you're doing. Own your venture and don't be afraid to ask for help. Everyone likes a start up and wants to be a part of the success. So talk with everyone you know about what you doing, what you need to be successful and how they can help. And don't forget to say thank-you when they come through or even for just giving you their advice.But one entrepreneur turned mother turned entrepreneur (multiple times) has got it down to a science, and she's sharing what's she's learned. Of the 80 million mothers in the United States, 15.6 million own businesses, and if Holly Hurd has her way, that number will be changing in a hurry"
Click here to view article on portfolio.com where you can share with others.
_________________________________________________________
February 6, 2012 VentureMom Holly Hurd quoted on International Association of Women Entrepreneurs Online (IAWEO)
Over 100 Women Entrepreneurs Share Their Secrets to Keeping Balance Between Work, Life, and Play
Make Sure To Compartmentalize
My advice is to compartmentalize. You'll be happier and so will your kids and family. When you schedule time for work, be at work. Keep all distractions to a minimum. So that means, have a babysitter or work while you're kids are in school. If you work at home, don't do the laundry, empty the dishwasher or make the beds. That time should be scheduled as well so that when you sit down at your desk your are focused on only work.
Thanks to Holly Hurd of VentureMom…"
Click here to view article on iaweo.com where you can share with others.
_________________________________________________________
January 17, 2012 Holly Hurd Featured on ItsRelevant.com
Moms Venture Out in 2012
"For Holly Hurd, 2012 means inspiring more moms to venture out.
Last time Hurd spoke with It's Relevant, she had close to 70 featured VentureMoms on her site VentureMom.com, telling the success stories of women from Connecticut and across the country. Now with 3,000 followers.
'A lot of women will say finding a business course equals X amount of dollars,' said Hurd, 'but finding out what I want to do is priceless.'
Before the venture hour takes place, Hurd sends the mom a questionnaire to fill out, which will clarify their interests and any limitations such as other jobs, children, or certain time constraints. Hurd will then have an hour over-the-phone consultation with the mom for a $197 fee, to discover interests or hobbies the mom can generate a business with. The venture hour also includes a free copy of Hurd's 12-step book titled '12 Week Mom to Venture Mom.'
'These moms are doing something right now they can charge for, like this one woman who makes homemade ice cream cakes,' said Hurd. 'I just love doing this.'"
Click here to view article on ItsRelevant.com where you can share with others.
_________________________________________________________
November 28, 2011 VentureMom Holly Hurd quoted on Hearpreneur.com
New Entrepreneurs Remember This by Gresham Harkless
"…What are the most important things (maximum 3) that entrepreneurs should remember when starting a new venture?
Thanks to Holly Hurd of VentureMom…"
Click here to read the complete article including the feature response on Hearpreneur.com.
_________________________________________________________
November 28, 2011 VentureMom Holly Hurd quoted on DrShannonReese.com
36 Best Business Takeaways for 2011 by Dr. Shannon Reece
.Inspirational Stories That Motivate Moms
We are most thankful for the great stories that we're able to cover and share on our site. The downswing in the economy has led inventive moms to create their own ventures and build profitable businesses. I'm so thankful to be able to learn about a multitude of business ventures from all over the country, in all sizes, and in all specific areas from food ideas, to creative clothing, to home ventures, to ventures with animals, to service businesses.
And to be able to provide motivation for others by sharing these women's successful venture stories is what makes me so happy. So thanks to all the moms who have either fallen into a venture by accident or set out to create an entrepreneurial vocation that gives them fulfillment and then sharing them with the world through our website.
Thanks to Holly Hurd of VentureMom…"
Click here to view full article on Dr. Shannon Reece's Blog.
_________________________________________________________
"…42. Effective Communication Skills
We believe the single best asset that powerful women have is the ability to communicate effectively for a positive outcome. Even when the message is not good, women know how to frame bad news between a compliment and a thank-you. Further, when powerful women are delivering good news, they can communicate the enormous part the person played in the making the good news happen. Many women garner this skill when raising children.
Overall, women can read their audience and use their communication skills to their advantage in all situations.
Thanks to Holly Hurd of VentureMom…"
Click here to view full article on Dr. Shannon Reece's Blog.
_________________________________________________________
October 28, 2011 Mommy Place: Interview with Holly Hurd from VentureMom

Can you tell me about your background and experience in business and how Venture Mom came to be? Why specifically moms?
I spent many years in the world of finance but always working for myself. I created managed futures products and managed significant assets throughout the 1990s. When I had kids, I took a step back from finance and got my real estate license and started several other ventures including creating a line of glass coffee tables. I love reading motivational books and decided to write one for myself for my own ventures. I started interviewing women in my area whose stories motivated me through their successful business ventures. Most of these women were moms. I wanted to share their paths to success with everyone, so I started my website and weekly newsletter, VentureMom.com, to highlight these wonderful entrepreneurs who had found a way to combine a business of their own with motherhood…
Click here to view full article on mommypage.com.
_________________________________________________________
September 15, 2011 ItsRelevant.com Article: Entrepreneur Helps Moms Venture Out
A mother of three, with two daughters in high school, and a son who has started his first year in college, Holly Hurd also finds the time to be an entrepreneur as the owner and creator of VentureMom.com.
Since the site launched a year and a half ago, it has been providing guidance for moms all across the country and the world on how to start their own businesses with tips and advice from Hurd, and a little help from the Internet. I'd meet these women," said Hurd, and hear these amazing stories of ideas they had and think, you can make a business out of this.
Click here to view full article on itsrelevant.com.
_________________________________________________________
VentureMom in New Canaan-Darien Magazine, May/June 2011
Article part one (pdf)
Article part two (pdf)
_________________________________________________________
Darien Woman Helps Moms Venture Out
by Fenella Pearson March 3, 2011
Holly Hurd, a real estate agent with Kelly Associates in Darien, is the founder of Venture Mom.com.
Holly Hurd is, in her own words, a serial entrepreneur. She's the kind of woman who keeps a stack of well-read motivational books on her bedside table. I even started writing a motivational book to keep myself motivated,she says. Holly has worked for a hedge fund, deigned coffee table  and is now a busy real estate agent in Darien. She's also the brains behind a new business, VentureMom.com.
VentureMom is an online networking site that connects women who have started their own businesses. The site provides a directory, tips, a newsletter and a blog aimed to help women turn their dreams into a business. And Holly spotlights her moms by telling their stories so that other women will be inspired to pursue their own dreams.
I cover women who have created something unique on their own, she says. A recent story features Sheryl Myrhe, who fell in love with tea on a trip to Europe. She did her research, wrote a business plan and now runs an online business selling specialty teas. Then there is the mom who began after-school art classes so that she could take her own kids to work with her. And the two friends who set up a website where people could get rid of surplus belongings responsibly.
Women often tell me they want to do something but they don't know what,says Holly. I tell them to come up with six things they can do in six days. Her encouragement gets women thinking creatively. If someone likes to cook, they could think about offering to cook meals for other moms who don't enjoy or have the time to make home-cooked meals, Holly says. Or start a dog-walking business.
Holly herself is a good example of a mom who has reinvented herself. A Darien mom with three busy teenagers, Holly she began selling real estate with Kelly Associates 11 years ago. I love houses, she says. What she especially likes is seeing the diamond in the rough. I'm a frustrated interior designer!" she adds. Holly always recommends that sellers dovecote their houses before putting them up for sale. Paint, change the light fixtures, update the millwork and stage your home.
More: entrepreneurs, Holly Hurd, Kelly Associates, Venture Moms, Real Estate
_________________________________________________________________________________________
One of several examples of VentureMom.com success stories is New Canaan resident Sam Loomis, presented here by Holly Hurd. Photo: Jeanna Petersen Shepard / New Canaan News
__________________________________________________________________________________________________
For Immediate Release – January 20, 2011
Darien, CT  Do you dream of starting your own business? For most stay-at-home moms, their former careers seem like a lifetime ago. However, the internet has shown a whole generation of women that starting a new venture or business is a real possibility. Local mom, Holly Hurd, an entrepreneur par excellence, has recently launched a website and blog, www.venturemom.com. Her site is the A-Z on what to do to make your dream of creating your own business a reality. Everything from how to name your business to how to get your venture off to a great start. She says the idea came about after she realized she had many mom friends who wanted to start a venture and find fulfillment outside of family and motherhood. Lots of moms currently work but are looking for a change that allows them more freedom, and the opportunity to be their own boss.
With that in mind, Hurd set out to find a way to link moms together, and offer practical advice to those seeking to start a business, or to take an existing venture to a new level. Her website through a free e-letter, features a different VentureMom each week, and also offers an opportunity to read about other moms and their successful stories. Hurd has interviewed scores of women, and wants to share their ideas with others so that they can have the tools to take that first step. "What I love most about what I do, is the opportunity to empower women and show them how a hobby or a passion for something can actually evolve into a successful business.
Tips such as don't wait until it's perfect, just start is the site's mantra, and the calling card for VentureMom, a mother of three kids, 13, 15, and 17, who has always loved the entrepreneurial side of business. She has had a number of her own ventures over her lifetime. Her passion is starting new things, and this site is her latest.
Contact: info@venturemom.com, 203-434-4201
____________________________________________________________________________________________________
Darien Woman Equips Moms for Business Success
by Casey Donahue04/09/11
Holly Hurd is a resource for other entrepreneurial moms.
Photo Credit: Courtesy of Holly Hurd.
Holly Hurd got an early start in the world of business, learning how to trade commodities and futures from her father when she was 12. Starting her own businesses, working in real estate, public speaking and acting followed. Now the Darien resident is helping women start and run their own businesses through Venture Mom.
"A lot of moms don't know how to start their own venture and need a place to go. My message is that you can start your own venture and still have time for your children, Hurd says, "and I can show you how to do that."
The project started when Hurd set out to write a motivational book about moms running their own businesses. Eventually she decided it would be more effective to have a website where she could highlight women who successfully run their own businesses. She also offers advice on how to get started, market and move forward.
Hurd says one woman told her she got her first client for after being featured on the site. The sites success stories range from a woman who makes $160,000 a year selling things on eBay to a mom who created an app that prevents teens from using their phone while driving, to a woman who started selling gluten-free cookies at the farmer's market and ended up selling her product at Whole Foods.
"A venture should be something you are enthusiastic about, something you love, that you have a passion for. Do what you love and the money will follow," Hurd said.
Moving forward, Hurd wants to expand the site so she can continue to share stories and knowledge with other moms, as well as speak at events and to women's groups. She will also be writing a series of articles for The Daily Darien on Thursdays, outlining the 12 most important steps for starting your own venture.
Have you checked out Venture Mom? Would you be interested in starting your own business? Leave a comment below, on Facebook or Twitter.