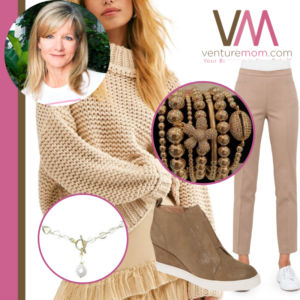 What would VentureMom Wear to Fall Book Club?🍂
For my book club gathering in the early fall an all ecru outfit would be great. This cozy over-sized sweater is perfect with fitted pencil leg pants in the same color. Add a Caroline Crush stack of gold beaded bracelets and this Peyton William pearl pendant necklace.  Pair it with these on trend booties and you're set.
Now you just have to finish the book.
Shop the Sweater –  https://shop.nordstrom.com/s/free-people-my-only-sunshine-sweater/5387047
Shop the Pants – https://shop.nordstrom.com/s/akris-punto-franca-techno-cotton-pants/3563125?origin=coordinating-3563125-0-1-PDP_1.PDP_1_DEFAULT-recbotalso_viewed&recs_placement=PDP_1.PDP_1_DEFAULT&recs_strategy=also_viewed&recs_source=recbot&recs_page_type=product&recs_seed=3867665
Shop the Bootie –  https://shop.nordstrom.com/s/linea-paolo-felicia-wedge-bootie-women/4413353?origin=category-personalizedsort&breadcrumb=Home%2FWomen%2FShoes%2FBooties&color=taupe%2F%20brown%20suede
Shop the Necklace  – https://marketplace.venturemom.com/collections/peyton-williams-jewelry/products/lilia-necklace
Shop the Bracelet – https://marketplace.venturemom.com/collections/bracelets/products/jennifer-beaded-bracelets
Shop the Bag – https://shop.nordstrom.com/s/see-by-chloe-emy-suede-leather-satchel/5353737?origin=category-personalizedsort&breadcrumb=Home%2FWomen%2FHandbags%2FSatchels&color=luminous%20ochre