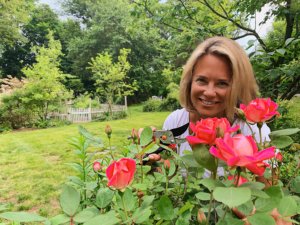 She believes that the only constant is change. With this in mind, Noelle Henderson has evolved and grown her business. Since Noelle was last featured for creating vegetable gardens at the local elementary schools, she unearthed the opportunity for certification as a Master Gardener through the University of Connecticut Extension Program at Bartlett Arboretum, a stone's throw from her own garden.
This 6-month intensive introduces aspiring landscape architects to the basics of botany. With the names of spring wildflowers now planted in her brain, Noelle has added a new dimension to her hikes and appreciation for what some might call weeds.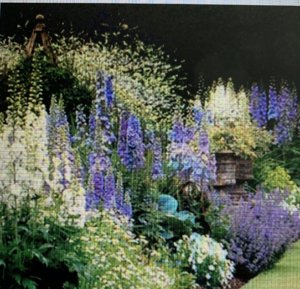 Noelle still maintains a vegetable, herb and fruit garden, but her passion has shifted to landscaping. "Why limit yourself to the square footage of your home? Enjoy every inch of your property!" After living in the San Francisco Bay Area, in 2004 Noelle and her family took a page from the west coast playbook by incorporating an outdoor fireplace and seating area at their own home, now very commonplace today.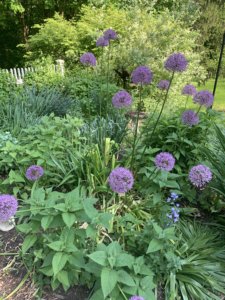 "By creating an outdoor living area with a fire element, it becomes the perfect place to invite family and friends outdoors in the shoulder seasons and even winter. You expand your living and entertaining space."
While it might be a challenge for some to envision how to create a beautiful yard scape, Noelle has always had an creative eye. In order to help her clients who might not quite be there yet, she is utilizing a garden planning software program, that not only allows for an accurate representation of plants at the time of installation but can also project the garden's appearance in each season. It can even forecast the growth of the garden as a whole over the years to come.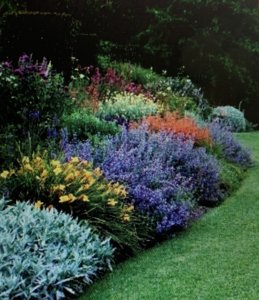 "It's really like an augmented reality game for me", explains Noelle. "And that's what we're used to. Think HGTV, and before and after shots." Noelle's business, Design by Noelle can provide a huge selection of plant species to choose from and show you exactly what the installation will look like now and later.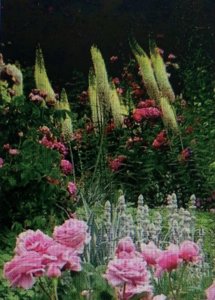 After a career in the fashion industry, Noelle translated her eye for design and creative instincts to the world of visual arts. She took classes at the Silvermine Arts School and found her passion for steel sculpture.
"Annuals only last this year. Perennials come back year after year. I call my steel blossoms my perpetuals, because they are always around." Noelle has sculpture available and also works on commission. "This is another fun way for me to stay in the spirit of my garden in the winter months."
Whether live plants or steel sculptured plants, Noelle has the eye to make any yard and garden sparkle. She loves that she's able to make a living doing something that she truly loves.
VentureMom Tip
Find a way to extend a seasonal business into a year-round business.