When her beloved Boxer mix named Marmite, got sick, a new business was born. Hayley McNatty was called to the vet and was told that her darling dog had leukemia and needed chemotherapy. "I told myself that if he was going to suffer that I would let him go. The chemo hit him hard, he went down hill rapidly and ended up back in the vets on a drip, and when it came time to make a decision, I just couldn't say goodbye to him."
Hayley decided to help her dog through the process. She began by preparing all of his food from scratch. She even created a dough that she could use to hide his pills in. "Marmite was very crafty at spitting out his medicine." Hayley also has a chocolate business and loves to cook, so cooking for her dog came naturally. "I love the creative process and I was saving my dog at the same time."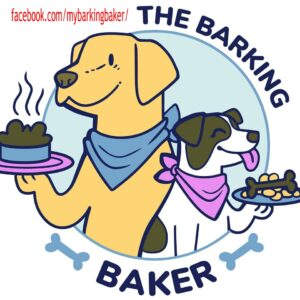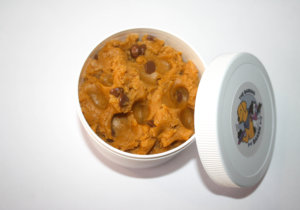 On a phone call with her longtime friend Lynette deGraaf, the two started talking about turning the doggy treats and dough into a business. Lynette was quite crafty herself and was creating reversable bandannas and bow ties for her darling dogs, two Airedales. The very next day, Lynette began sewing and Hayley began baking. What to name their new business? Hayley's maiden name was Baker and they came up with the Barking Baker.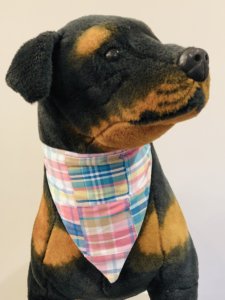 "I remember when we were growing up our dogs lived on table scraps which was actual food, simple with no fillers." Hayley began working with her vet to perfect her recipes and was using a super food for humans in her dog treats. "I combined turmeric with pumpkin and beets and other natural ingredients to create anti-cancerous goodies that help with arthritis and diabetes, too. Marmite and my three Jack Russells love them and they're so good for them."
Shoppers can't believe the beautiful treats and packaging is all for dogs. One customer said, "Everything on the table looks so beautiful and yummy."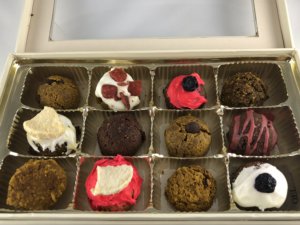 Lynette had created bandannas that go over a collar and one that uses Velcro. "Many dogs can get hurt from tied-on bandannas." As a dog lover, she knew how owners love to dress up their dogs throughout the year and her bandannas were popular with her friends and family. So, why not sell them to others.
Now what? Family always helps. Lynette has a brother in marketing, and he created their logo. Lynette (with the help of her brother) set up the web site and they signed up for some fairs and boutiques to showcase their new products. They went from idea to income in just a couple of weeks! Hayley has a commercial kitchen in her basement and now Lynette has a sewing room at her house too. Brilliant!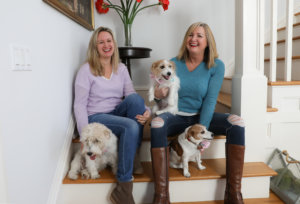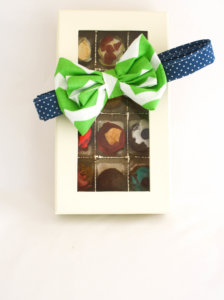 These two long time friends are having the best time with their new business. "We each have a different skill set and it works. So many days we have no idea what we're doing but we figure it out together." Lynette and Hayley love that they have each other to lean on to move their new business along. "We spent so much time taking care of our children, that it's really great to have something just for us that uses our brain and creative abilities."
What's next? The two women say they'd love to have a doggie café where owners can come for tea or coffee and the dogs can come for treats. I love that idea!!!!
VentureMom Tip
Look to your pets for a business venture.