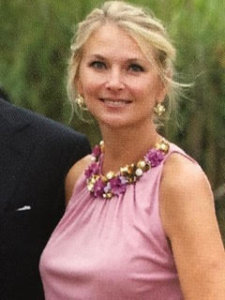 "Just because you've committed to doing one thing your whole life, doesn't mean you can't try something else." That's how Jacqueline Segura felt about her idea to create a shoe for wearing when you have a pedicure. She had been an interior designer all her life, but she had another thing she wanted to try. "In the winter when it's freezing and there might be snow on the ground, you're going to leave the salon in cheap give-away flip flops?!?! No!!!!"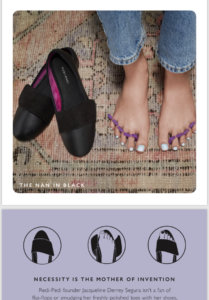 Jacqueline got the idea to create a shoe that has a collapsible toe area so you can walk to the salon in style and then put your foot over the toe section to let your pedicure dry while you walk out of the salon and keep your day moving along. In fact, she had the idea years prior and created a version that wasn't quite right. But last year, the idea percolated to the top of her mind again. This time she wanted to make it happen.

Through referrals, she landed on a firm that put her in touch with the right people to help her create a prototype and find a manufacturer. "It took about six months and many reiterations before we got it just right. The strap had to be at the perfect angle, the design had to function, the toe box had to be the right dimensions, the materials had to be top drawer and it had to look good too." Jacqueline was finally happy with the finished product and placed her order hoping to receive the shoes in time for the Holiday boutiques.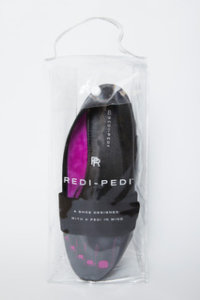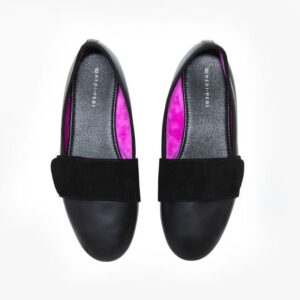 "I didn't factor in the time it takes to get things delivered, so I had to air express part of my order." While she waited for it to come in, the got her design patented and her name trademarked. The name Redi-Pedi came from the idea that your pedi is ready to walk when you're wearing these shoes. Jacqueline reached out to her resources to find someone to help with a logo and packaging.
She named her first design after her beloved late mother, "She always supported my dreams and aspirations." "The Nan" was now ready to be shown. Her first sales have come from last year's Holiday Boutiques. "I'm still in interior design but I'm really focused on getting this product into the marketplace." Her warehouse is her dining room, like so many start-ups. And like others there are issues getting started, "A huge truck showed up on a snowy Christmas Eve asking for the loading dock, at my house! And they weren't sure whether or not they could make it up the driveway so they left."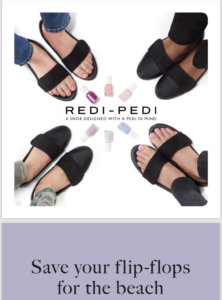 The Redi-Pedi is perfect for the working woman who wants to get a pedicure at lunch or on her way home, the yoga mom running by after class, or any busy woman who is always on the move. The premier style is currently available in black water-resistant faux leather with a matching suede strap, plush magenta lining, and a comfortable padded insole for all day wear.
Jacqueline says her daughter thinks it's kinda cool that mom has a new business, "Maybe when I get in the Oprah Magazine she'll be impressed." For the women who know what Jacqueline is talking about, they are snapping up the Redi-Pedi. "It's so exciting when I get a sale and I'm really enjoying working through each hurdle I face."
VentureMom Tip
Don't be afraid to try something new.