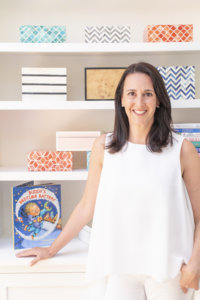 It was a friend's 40th birthday weekend that lead her to a new business. Christina Geist's best friends from college set out over email to gather notes and photos from the friends and family of the gal being celebrated. Christina designed them all onto cards and presented them to her friend in a beautiful box. "This gift was so special and had such a profound impact on my friend. I realized it was a big idea before I even gave it to her." But how could technology help her create a DIY experience, with less of the Y?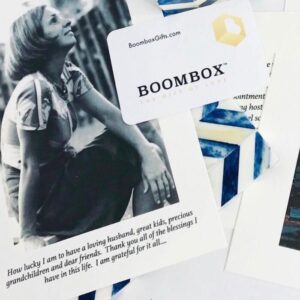 "I had left my corporate job as a brand and design strategist four years prior and had been home with my kids. My youngest was starting Kindergarten, and I was ready for a new challenge." It was about this time that her old boss Todd True, a graphic designer and global creative director, called her back to the branding industry wanting to start a new firm with her. Christina made a deal, "I'll partner with you to launch True Geist, if you help me get this start-up off the ground."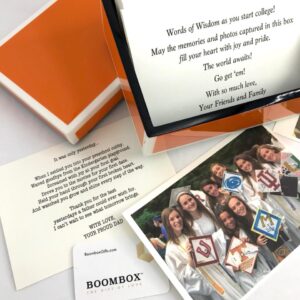 Her new start up? Christina wanted to take her idea of memory boxes and digitize the process so others could give this beautiful gift to their loved ones. "Basically, I started one company to pay for another." She began by searching for a tech company that could get her idea into a form that would work easily for customers. "Everyone has friends spread all over the county and the world. If I could set up an online platform that would gather the notes and photos and then put them together for the gift giver, this would be ideal."

"I reached out to my own village of friends and colleagues, telling them what I wanted to do. That's how I found the right tech partner to help me with my idea." Christina developed a flow chart of how she saw the process working and took it to the tech company to build. Meantime, she continued to make boxes herself as each of her best friends turned 40, and as her father turned 70.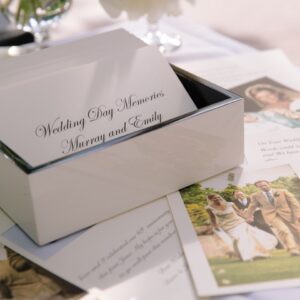 Next, she needed to find the kind of paper note cards and boxes she wanted to offer. "This is a bespoke, personalized memory box and the materials needed to be premium." She also needed a name, "I was on a flight to Chicago to give a box to another friend when the name finally came to me. These boxes make a huge emotional impact, so Boombox felt perfect."
Christina wanted to build a user experience that was flawless and high end. "We're helping people do more than buy something. They're creating a once in a lifetime gift for someone they love, and the customer service and brand experience needs to reflect that." Christina set up the input process much like an e-invitation and has a Boombox Concierge Team to help customers every step of the way. The gift giver adds names and emails to a list and sends them a request to upload notes and photos. Once submissions are completed, Boombox goes to work creating a beautiful memory box. The design and printing process takes about a week.

When she launched the website in September of 2015, Christina wondered if people would emote to their friend or loved one through an online service, with a brand facilitating the process. "We've all become so accustomed to sharing our life stories online, we found no barriers. We were making it easy for friends and family to tell a loved one what they have meant to them, and people appreciated that immediately."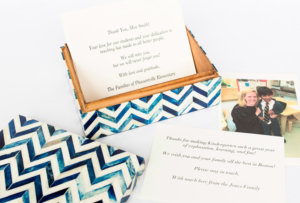 She set up her new office for both jobs in the same building as her home. "I love that I can go to work in my slippers and be there for my kids, now 11 and 9, if they need me." After her first sale to a friend, the orders poured in. "This is a product that sells itself. After someone is involved in creating a Boombox for someone, they want to create this very special gift for all the people in their lives."
"The sales went viral." A Boombox can be created for so many occasions from birthdays, to anniversaries, trips, retirements, weddings – the uses are endless. "People became evangelical about how meaningful the boxes are, and almost 50% of our sales are from people who've given, received or participated in a box before."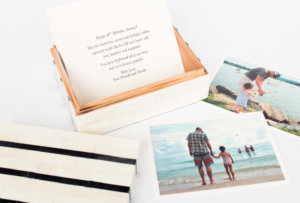 Developing two businesses in tandem has been an incredible experience for Christina, "It was the right time in my life to pursue both ideas. I gained so much from my earlier corporate work at Interbrand and Johnson & Johnson, but it was time to put all I had learned into practice." And not only is she a partner in a branding firm, and the founder of Boombox, but she also publishes children's books with Random House. "It's important to me that my children see a woman as a multi-dimensional person."
"Coming up with an idea is easy. Sticking with it and launching it is another story." Christina says the feedback she and her team received about the emotional impact of each Boombox, helped them move forward and carefully craft every moment of the experience for her customers. Her team is made up of mostly women who were drawn to Boombox to help people create something truly meaningful.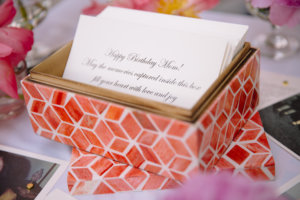 "It's very scary to put something out there in the world with your name on it. I could have easily talked myself out of this idea. My husband was so supportive and never doubted that I could do this." Christina's goal is that everyone can experience the emotional depth of a Boombox at some point in life.
VentureMom Tip
When you see something that has a huge impact on people, find a way to expand on that idea.