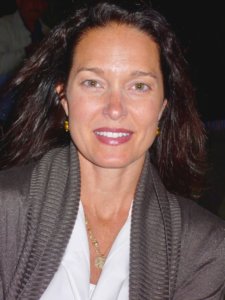 For years she was the business manager for Cindy Crawford, (yes the famous model) but how did that experience help her start her own jewelry line years later. Michelle May says, "I basically ran Cindy's life. I worked with her agent, her lawyer and her publicist. I helped produce her projects. Not one day was the same and it was really great."
Michelle managed Cindy's multiple corporate contracts. "It was crazy busy, but I learned so much." She traveled all over the world with Cindy and had experiences that she never would have had otherwise. Michelle's job afforded her the opportunity to interact with some of the world's most talented and well-known fashion designers, photographers, film makers, corporate executives and other celebrities.
Her most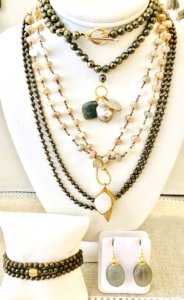 memorable moment with Cindy was having the chance to meet Princess Diana at Kensington Palace along with Princes Harry and William. "I met all the people that made Cindy Crawford who she is. Cindy treated herself as a business and by doing that, she is incredibly successful."
When Michelle had her first baby, she knew it was time to leave her career with Cindy. Michelle says that during this time, she turned volunteering into a career like so many stay-at-home moms. Fast forward to a daughter headed off to college and Michelle being single. "It took a while to process and work through the changes. During my divorce, I had lost a part of me. It was an incredibly difficult time, but I was determined to find myself again."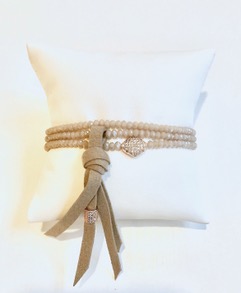 Michelle began that process through creativity. She sourced semi-precious stones and materials for making jewelry and turned her dining room table into her work space. She started by making a few pieces and realized that she loved the creative process. "But if this was going to be my thing and more than a hobby, I would have to differentiate myself in what is a highly competitive market." When she had her first trunk show for friends to test the market for her creations, she realized that she might have a viable business.
"As a single mom, working to make it on my own, I have a new profound respect for other women who are in the same boat." Michelle had a few friends who struggled with cancer and one close friend who had passed away from ALS. She was inspired by the strength of all these women and began to name her newly created necklaces after the courageous women in her life from whom she found strength. Friends got naming rights too, "I began to realize how important friendship is, not only in good times but also in very hard times."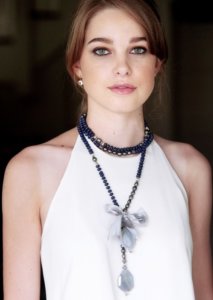 Michelle also wanted to let those women in her life know how much they meant to her by naming her pieces after them. "Cindy has a necklace. She was such an important part of my journey. Not only is Cindy's strength incredible, so is Cindy's mother's. She raised 3 daughters on her own."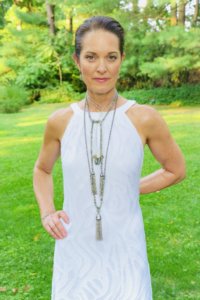 Michelle's grandmother's name was May so Michelle shortened name in honor of her grandmother. The name of the line became Michelle May New York. Wanting to give back, she has chosen a few charities to receive a portion of her proceeds: The One Love Foundation, a group that educates young people on how to avoid relationship abuse and the JBFC, a group that supports young women in Tanzania. "My jewelry line also supports GlassyBaby, an organization to help people, animals and the environment heal."
Michelle May jewelry can be found in high end resorts, exclusive boutiques from Canada, Aspen and the Hamptons as well as aligning with successful ecommerce businesses. She hopes to partner with fashion designers and grow her brand. "I'm always working towards creating pieces that offer versatility, functionality and beauty."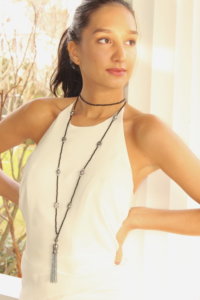 "When you have your own business it's on your mind 24/7." But Michelle is all in. "Not only has this line been my creative outlet, but it has allowed me to rise up from a very difficult place in my life to build something inspirational for myself and hopefully others."
Michelle's line is ever evolving and she takes great pleasure in helping women look and feel their best.
VentureMom Tip
Pick yourself up, find something you enjoy and find yourself again.