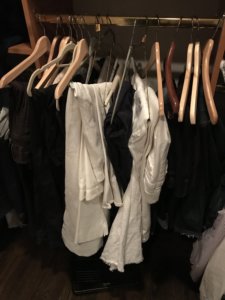 Help, my white jeans are still front and center in my closet. VentureMom Maria Turkel to the rescue. ( Get your Closet Clean out here.)

Maria, what do you suggest that I do to organize the pants in my closet. I can't find my cords, my jeans are all over, my dressy pants are a mess.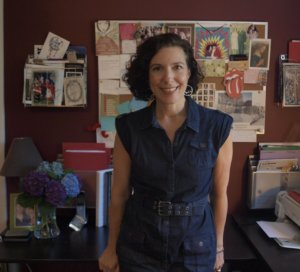 First thing to do: Pull all your pants out of the closet and separate your Spring/Summer pants from Fall/Winter.
Next: Edit now! Try them all on and look in the mirror. Anything that doesn't fit well, doesn't make you feel super-confident, etc, etc—release them now. Keep only the great stuff. You can go all zen if you'd like, and thank them for their service and then pass them along.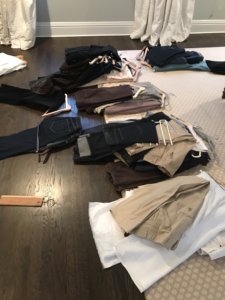 Then: Hang your pants if you have the space in your closet. So much easier to see what's what when they are hanging rather than folded. Group the Spring/Summer pants in the back of the closet and this season's pants to the front.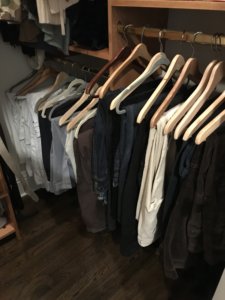 Now: Group your pants in color order. Starting with white on the left and going through any colors (khaki, tan, red) to blue, grey, black on the right. I like to mix jeans and cords with dress pants—as long as they're in color order, it will be easy to find the right pair. (Ok, mine aren't in color order but those are white cords.)
Phew, I feel better already, and just look at my pants!!!!! (now, I need to do my sweaters!) Thanks Maria.
Maria will come to your closet and help you get organized. Get this great deal in the marketplace today. Makes a great gift too.