I've been invited out on a boat with some girlfriends. Yes, one of my close friends is the captain of a pretty impressive boat. It's going to be really hot so I'm wondering what to wear. I'm leaning towards the nautical colors of navy and white.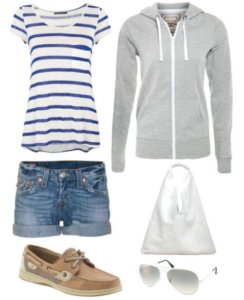 I love this look. Jean shorts with a loose striped t-shirt and boat shoes, easy peasy. Add a zip on sweat shirt in case it get chilly, sunglasses and a bucket bag for wine.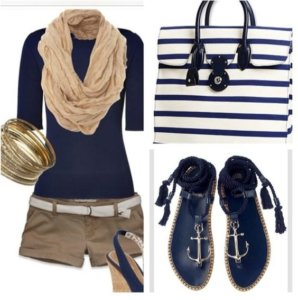 If I want to dress up a bit, I can start with tan shorts, a rope belt, navy t-shirt and a dressier bag. Gold jewelry always goes well with blue.
If it's a evening cruise, I can pair a long nautical looking skirt with a baby-doll white top, my favorite. The blue bag and jean jacket work perfectly for a night on the water. Now I just need the bottle or two of Rose.