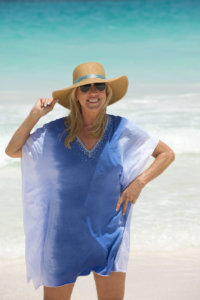 In her past life she worked in the fabric industry, but it was her husband and son who helped her recreate her career later in life. Laurette Kittle was a fabric designer and created patterns for firms like Waverly and Schumacher. "I spent the first part of my career painting color ways for sheets, pillows and even clothes. There were no computers back then, so I did everything by hand." Laurette found a kindred spirit in color, with Bob Van Allen whom she worked with for several years.
When he passed away, Laurette says she felt lost. It was then that she met her husband, a New York Times photographer. "He didn't have a 9 to 5 job and we traveled all over the world and then we had children." With two boys who loved to surf and a husband who loved to travel. Summers were spent at the beach all over the world, all day and their days rolled right into dinner. Finding beach wear that could go from the beach to dinner proved to be difficult.

With her boys grown, Laurette found herself in Bali on a family surf trip. While there she loved living her beachy life in the Balinese clothes which consisted of caftans, tunics and lounge pants. Returning to her suburban life, Laurette sported her new finds out in town and her friends loved her outfits. It was her son, Cody, now a financier, who encouraged her to start a clothing line around her Bali wear. With her background in fabrics and design it seemed like the perfect fit.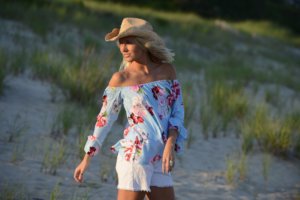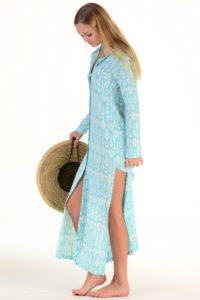 But she had no experience, "I found the perfect mentor in Arease Fisher who came from the fashion world and who taught me everything she knew." Cody felt that his mom had what it took to make a fashion line successful, so he backed her. "I started sketching and returned to Bali to get my creations made. I found a tailor through friends we'd made while there."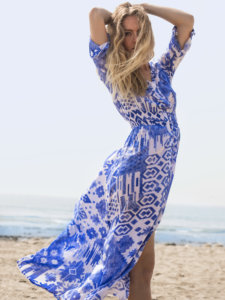 Now Laurette needed a name for her new brand and looked to her children for inspiration. Walker and Wade are her sons' and husband's middle names, so it seemed fitting. Laurette created just enough inventory for her first trunk show to test the waters. Her son Cody set up the web site and put the clothing on line. "After the trunk show, Cody called and told me sales were impressive. I didn't even know he could follow the progress on line. He jokingly said, 'Mom there's this thing called the internet.'" Walker and Wade was off to a great start.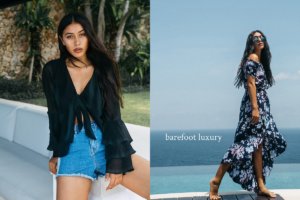 A chance meeting got her line into its first store. "I took my Dad for a pedicure while visiting him and happened to sit next to the woman who owns Matilda's in Stuart, Florida. We started talking. The next day I took my items to the store and she became my first wholesale order."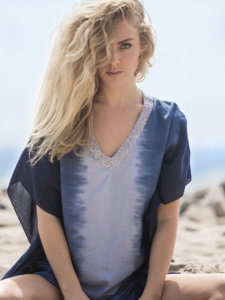 Describing her clothes, Laurette likens them to bohemian chic. "The collection reflects my passions: color, pattern, and travel. My design process brings together ikats, batiks, tie dyes, and silks from Bali and India." She says they are similar to the former brand Calypso but at a better price point. Two years in now, Laurette feels great about what she's created. Her sons who are 26 and 28, love that their mom is an entrepreneur.
Even Katie Couric and Kathie Lee Gifford like her clothes, "They posted themselves wearing my clothes on Instagram and within hours, we had a huge number of orders." Laurette feels so grateful to have her own business and one she loves so much, "I was never good at a structured desk thing from 9 to 5, so this is perfect for me. I feel like I'm still learning every day and I meet the greatest people." She also loves the fact that the women in Bali who work for her can better support their families.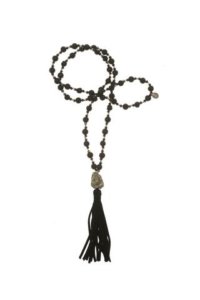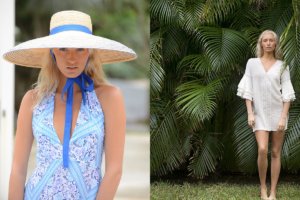 Laurette spends a month in Bali each year creating her clothing and Walker and Wade is now found in stores across the country. She's added clutches, jewelry, and towels. But Laurette feels if you speak your language in what you do, you'll be successful. "Color has always been the language I speak whether in fabrics or paper products and now in clothing."
VentureMom Tip
Align your business to the 'language' you speak.