Order your child a custom  t-shirt quilt today from the VentureMom Marketplace!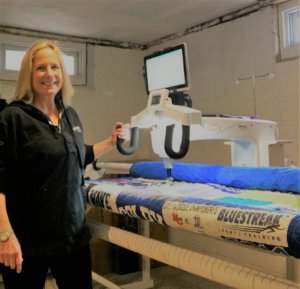 How did she go from a designer of packaging to a designer of t-shirt quilts? Veronica Scribano was a graphic designer who created the packaging that surrounds many consumer items. When her kids were younger she left her full-time job to freelance in the same industry. And then a tragedy lead her to a new business.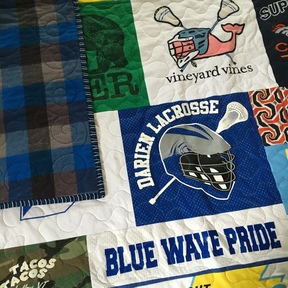 "A young man in our home town passed away and as a remembrance, I created a quilt out of his t-shirts for his parents." One friend told Veronica she should start a business making memory quilts for others. Veronica had always loved to sew. At one point she made her own sundresses and tote bags. When her daughter left for college and they were cleaning out her closets and drawers, she decided to create a quilt for her to remember her high school years. "Izzy had so many old t-shirts from activities and sports teams that she had been involved with. This was a happy project" She even added a swim team bathing suit and Izzy's favorite pajamas. "In the course of a high school or college career kids can gather so many t-shirts. You can't keep them all. It's great to pull those memories out of the drawer to create a keepsake."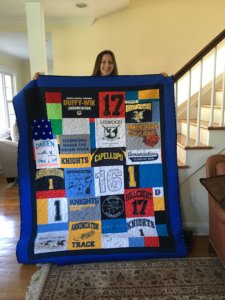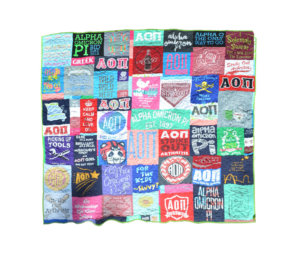 In order to quilt the t-shirt top, inner cotton batting, and back side of the quilt together with a stitched design, Veronica knew she needed a way to deliver the quality product she desired. She had become obsessed with a quilting appliance that she read about. "I decided to invest in this computerized long arm quilting machine that offered custom stitching designs, and I set up shop in my basement."
"My graphic design skills meshed perfectly with the quilting design software." She says there are knock-offs but they aren't the same quality that you get with her graphic design experience and a quilting machine. "The quilt that I deliver will last a lifetime." Veronica can stitch hundreds of patterns, even names, initials and endearment on the quilts. "It becomes a snapshot of a time in someone's life."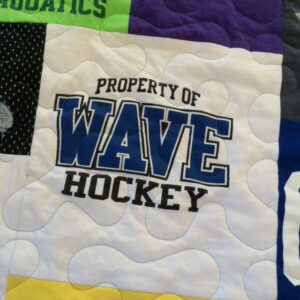 Her daughter loved the finished product, "She was beaming when she got her quilt. It was a way for her to keep the memories, in a useful item, that she could take with her to college." Veronica knew that if her daughter loved the quilt, other kids would too. And moms would want to do something to repurpose their children's t-shirts without giving them away and tossing all the memories that go with them.
Veronica was in business now. She named her new venture, Fairfield County Quilts and began to spread the word. With her kids out of the house, this was the perfect time to ramp up a business. She says her clients give them as graduation gifts, birthday presents and surprise gifts. "Even boys are really happy with their memory quilts. So many athletes have clothing from years of participating on different teams. To have a quilt that shows that progression is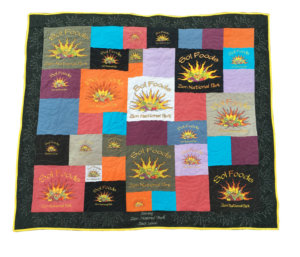 truly special."
How does the process work? A client mails or delivers the t-shirts to Veronica and she lays them out in a grid and sends a photo for approval. The client can choose the approximate size based on the number of t-shirts and the backing color. Veronica can even create quilts around a theme too. "Someone might ask me to make a t-shirt quilt around a vacation spot, a camp, a sporting event, a sorority, a club, a restaurant, or a particular school or college. The ideas are endless."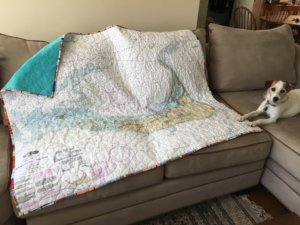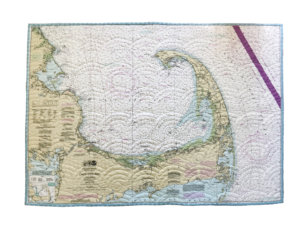 And now Veronica is creating quilts with nautical maps of places like Nantucket, Cape Cod, Long Island, or any location that a client requests. Her husband is totally supportive and loves that she is using her graphic design skills for her own business. Veronica says, "This is so much fun. I've always had a million business ideas, but this is one that I've actually made happen." She says the best part of her business is when she hands over the finished quilt, "Delivering something that makes people so happy is so rewarding."
VentureMom Tip
Come up with a product that repurposes ite