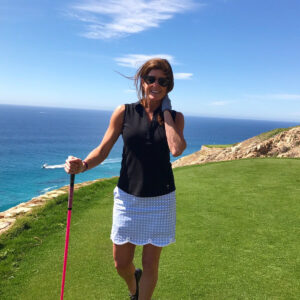 Get the Coupon Code in the VentureMom Marketplace to get 15% off!
Her grandparents taught her how to play golf but how did that lead her to a venture later in life.  Susan Hess was in sales at a telecommunications company and left her career to raise three boys. As they got older she returned to the golf course. "I found I was actually not too bad at golf, but the clothes were not too great. I'd rush to get my kids after playing a round and I really didn't like what I was wearing."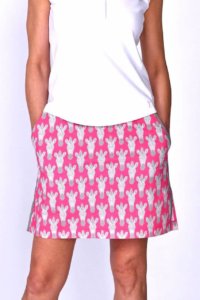 That was 14 years ago, "Women's golf wear was made in the men's styles but in women's sizes and was not flattering at all." Susan decided to create her own skort to wear from the golf course to her boys' school, so she could still look stylish. She took the train into Manhattan from her home in New Jersey and found a sample maker in the garment district. "We worked together to make a skirt with shorts underneath that would be perfect for playing golf and also look great for running errands around town."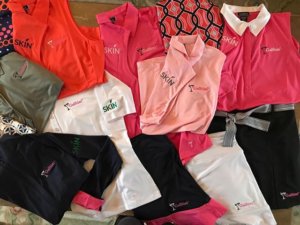 Sporting her new skort on the course, she got multiple compliments and requests for her to make the skorts for her fellow golfers. "Why not?" She began by having her sample maker produce them as she got requests and the number of requests kept growing. "With commuting, tolls and babysitting I was probably losing money on every sale but it was so much fun."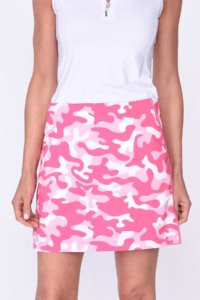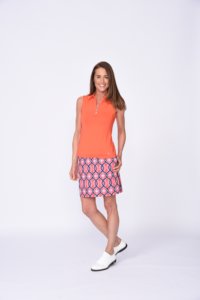 Susan realized that there was a void in the marketplace and that she had created something that others wanted. She began to think about her fun experience as a possible business venture. But she needed a name. She and a friend went to a martini bar and after looking at all the fun martini drink names, they wrote Golftini on a napkin, and that became the name of the Susan's new company.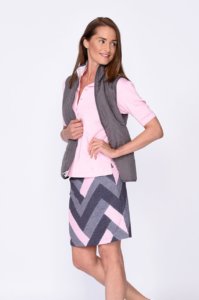 Her friends wore the skorts to local golf clubs and by chance one golf pro had a wife who was a merchandiser, "She knocked on my door and asked to rep my new line." It was a crazy time and Susan was determined to make it work. She had no fashion experience and no business background, but Susan's golf style was spot on. She created skorts out of cute cotton fabrics with fun trim and the Golftini logo, which is a martini glass. Women golfers loved them.

Then Susan got the idea from one of the pros, to go to the largest golf show in Florida. Without a plan, time, or money she decided to invest in a booth at the show, "I went down to Florida with my best friend, my niece, my new banner and all the guts I could find." She even told her family, "Things will settle down when I get back, I'm sure nothing will come of this." But when Golftini got a very large order the three ladies toasted their success with what else, a martini. But then the panic set in. Susan realized she didn't have the funds to manufacture the items that were ordered, much less a manufacturer to produce them. That's when fate stepped in.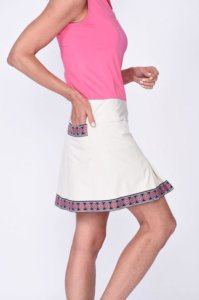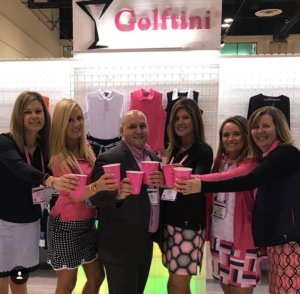 "I was in the bathroom at the convention center and I ran into a friend from the show. I told her my predicament and she told me her husband was a manufacturer in NYC and that he could guide me." Susan was in his office Monday morning and he helped set up shop, in a big way. "He taught me everything. It's amazing how helpful people can be." This put Golftini on the map.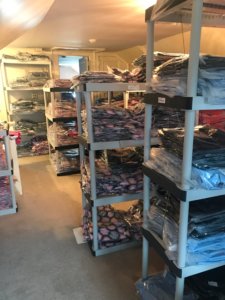 Her boys were in elementary and middle school during this start-up phase and Susan worked from home. "It was great being close by and to have that flexibility." Her boys were all basketball players and Susan was able to get to their games and still run her fledgling business. "I wouldn't change a thing about my path."
As Golftini grew, Susan realized she needed to create her own fabric to be truly unique. Her inspiration comes from everywhere she is, "I see a carpet at a hotel or a wallpaper at a restaurant and create a fabric around that idea." She had a colleague help her design patterns on a computer and then the pattern is transferred to her choice of fabric.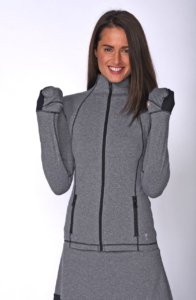 Her line now includes shirts and jackets and all in various performance fabrics. Golftini has 4 people on staff, 12 merchandisers, many of whom are moms, and a warehouse. Susan is even expanding her line into Australia and Canada. "If I can do this from scratch, anyone can do it. You just have to go for it. I credit a lot of my success to the people who've helped me along the way."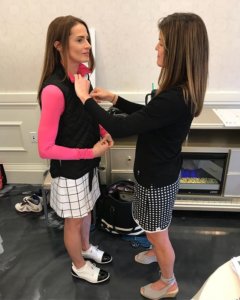 Susan says the women she's met through the process have become lifelong friends and she wouldn't trade those friendships for anything. "There was a point in my life when I decided I would just say yes to everything and it coincided with the start of my business." And look where she is today.
VentureMom Tip
Ask for help from people who are experienced in the areas that you need guidance.