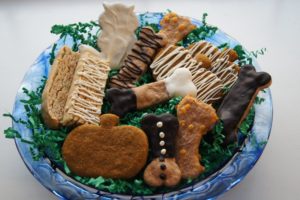 How does a move to a different part of the country lead to a different job and her own venture? Carrie Altman worked for a spray foam insulation company in Wilton, CT for years. "When my daughter graduated from college I felt I could live anywhere and decided to move to Ohio where most of my family is."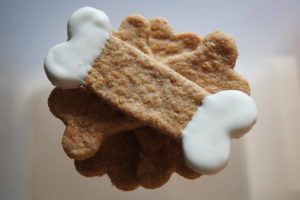 For years, Carrie baked doggie treats in her spare time. "I love animals and I love baking." Friends, family and work associates bought her treats for their dogs and it was a great side business. "When I moved, I felt that this was my opportunity to make my doggie treats a bigger thing and take it to the next level."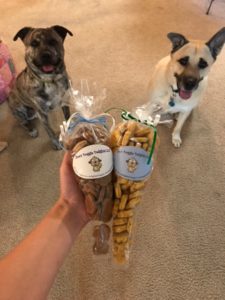 Ironically, her cat Zoe became the namesake for the business and Zoe's Doggie Delights was formed. Her first sale was from the attorney that organized her LLC. "He bought a gift basket for a work associate who was leaving the firm."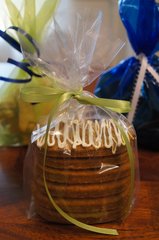 Carrie's treats are adorable and shaped like bones, paws, or seasonal items. She offers shamrocks for St Patrick's Day, pumpkins for Halloween and stars for Christmas. Her treats have names like, Zoe's Veggie Bites, Bow Wow Bars and Cream Cheese Woofies. She offers packages like the Itty Bitty Paw Pack and Bucket of Bones. Flavors are things like Cheddar Chomps and Veggie Bites.
The treats are made with wholesome human grade ingredients that dogs love, like sweet potatoes, nuts, cheeses, bananas, pumpkins, eggs, applesauce, carrots and parsley. Carrie says, "If you want to taste test what you dog is eating, you can go ahead and try them too." There are no added preservatives, chemicals, or colors. Carrie will also bake custom orders, like wheat free treats, to suit your dog's needs. And you can have the biscuits customized with your dog's name. How cute is that?!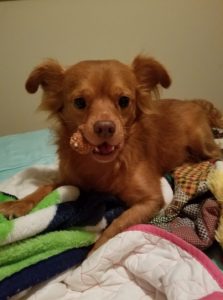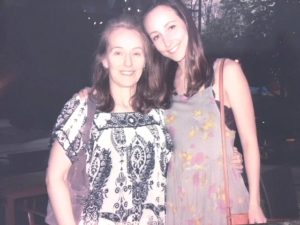 In her first year in Ohio, Carrie designed her web site herself on Go Daddy. "My daughter Haley, helps me with social media and is a great sounding board for ideas." Carrie is working to get the word out through Instagram and Facebook. She also attends craft shows and dog events where she sets up a booth with her treats.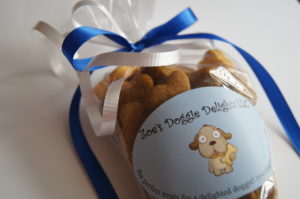 Right now Carrie bakes everything at home in her own kitchen. She has many family doggie taste testers. "They are the lucky dogs who get to sample my creations." She needed a permit from the Department of Agriculture since she was making things that animals would eat, funny right? "As I grow, I'd like to find a commercial kitchen that I can share with another baker." These make perfect gifts for new puppies, holiday gifts and doggie birthdays and are great for everyday healthy snacking.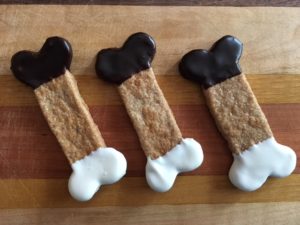 Carrie says that she loves working for herself. "It's so great that I'm not sitting behind a desk all day and that I've built my own business. I love the creative aspect of coming up with new treat recipes" She feels like she's really accomplished something. "It makes animals happy. It's makes people happy. That's very gratifying to me."
VentureMom Tip
Take a chance on a new business venture when you make a move.