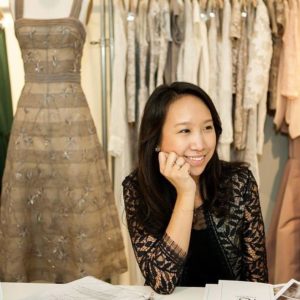 Since she was five years old, she dreamt of having her own clothing line. Katie Fong grew up drawing pictures of the evening gowns cared for by her family's dry-cleaning business. Her adoring grandmother encouraged her love of clothing and design.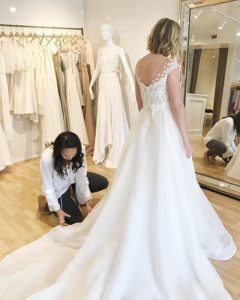 Katie began her career as an apprentice at Oscar de la Renta for three years under the Design Director. She then worked for J.Crew Corporate and then worked for a time at Maggy London But her own line was always her goal. "While I was in high school and college I found any and every part time job that I could find in fashion."
Through this experience, Katie discovered her niche and her passion was in bridal and eveningwear. "I began designing in my spare time and while I lived at home, my parent's library became my studio." Her muse was the Greenwich woman who always dressed with an elegant ease, even in eveningwear. "I grew up in the area and knew the kinds of dresses and gowns these women needed for their lifestyle." Katie spread the word in her community and began to design for local woman who coveted her style. With her orders growing she took a leap and quit her day job to work on her own designs full time.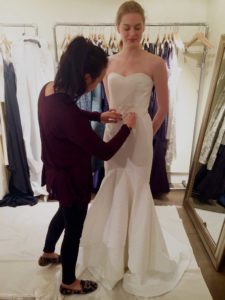 She created her first full line and moved to New York for her first showroom and studio space. "Most of my customers were high-end department stores like Richards, who carried the one-of-a-kind gowns that I created." She describes her style as classic, timeless and elegant. "The response to my line was almost immediate and I couldn't believe it was all happening so fast. But something was missing. I wanted to have the one on one interaction with the women wearing my designs." Three years later, Katie was presented with an opportunity to open her own shop in Greenwich.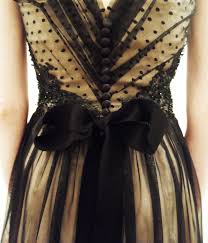 It was the perfect spot for Katie to open her custom apparel store with a concentration in bridal and eveningwear. "This was where I could create and show my custom gowns. And here I'm able to work directly with my clientele." Katie's passion is in fitting the gown to the woman wearing it. She recalls one Mother of the Bride who came in and had never had a custom gown before. "She felt so special being fitted and having a dress designed just for her and her family's special day."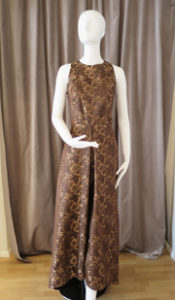 Katie enjoys collaborating with her clients to create a dress that expresses one's individuality and allows a woman to work directly with the atelier. "Having a custom-made gown, is a unique experience. We incorporate influences from around the world and use the finest craftspeople to create an exceptional garment."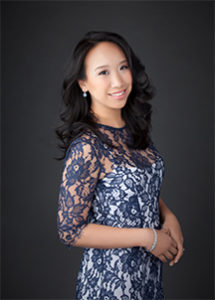 Katie supports other entrepreneurs too, by offering vendors a space to have trunk shows. "I love the idea of partnering with other women looking to grow their businesses. We've featured jewelry, bags, scarves; all kinds of accessories that a woman would need to complete her outfit." It gives Katie great pride to support her fellow female entrepreneur. "This is my happy place and I want to share it with others."
The shop is especially busy during wedding season from March until October but there is a need throughout the year for all occasions. "I've always admired women entrepreneurs. It's hard work but so worth it. Having a supportive family makes it easier." When asked if she ever compared herself to the mom in The Parent Trap who has a wedding gown company…. "Yes, I have thought of that and love the idea."
VentureMom Tip
Follow your dreams.