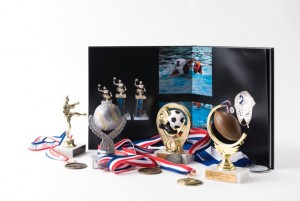 Get a $25 off coupon when you mention VentureMom!!!
Jessica and Yaël have branched out to include a wide variety of books in response to their clients' requests.  From vacation books, to baby books, graduation books, and sports books, Jumbo Dog can do it all. "Families value all kinds of things, not just art.  Some people choose to include everything in their books, from family photos to diplomas, to baby shoes and soccer trophies."  Jumbo Dog does all the scanning and photography of the items in their studio.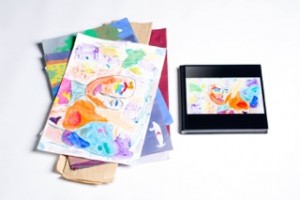 One client pulled up in her Suburban with boxes and boxes of her son's trophies, awards and medals, for Jumbo Dog to photograph and make into a book. Her son didn't want them but the Mom didn't want to just throw them out, since they represented such a significant part of her son's childhood.  A Jumbo Dog book was the answer and it was one of the most meaningful Christmas presents under the tree that year.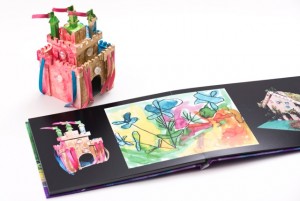 And then it went one step further. Rather than throwing the trophies away, the Mom donated all of them to a YMCA in a nearby town that didn't have the funding to give out trophies. "They took off the plaques with her son's name and recycled them.  The head of the Y told her that the kids who received the trophies that year were thrilled, as many had never received a trophy in their lives."
Jessica and Yaël are now getting some requests from around the country as the word spreads. "All you have to do is send us your items and we take care of the rest.  You can even order a shipping box from our website if you don't have one readily available."  They've also added other items to their line, "We can make custom note cards or even posters featuring your artwork.  They make great thank you cards."  Read how Jessica and Yaël got started in this throw back story below, and visit their website at www.jumbodogartbook.com.
Repost of Feature VentureMoms – Jessica and Yael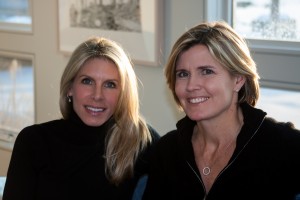 Two moms are standing in the street after their kids get on the bus. One mom says, "So what's on for your day?" The other mom says, "Walking the dog, going to the grocery and mopping the floor…very exciting day." When Yael suggested the idea of a business creating art books out of children's past art projects, Jessica jumped at the prospect. These moms had left jobs in the city when they moved to the suburbs, at first going part time, and then leaving work all together.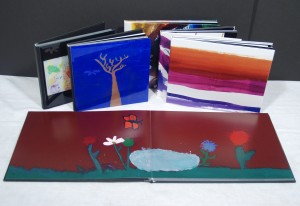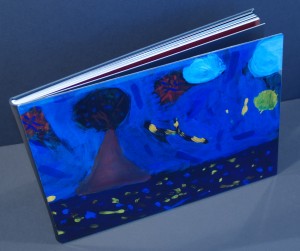 Both women wanted to work but lamented, "Who will hire someone who needs to be home by 3:00, takes days off when the kids are sick, and needs school breaks off?" They figured they'd have to work for themselves. When they came up with the idea of the children's art books, it seemed like the perfect venture. Extremely excited, Jessica dove into the research.

Their idea was to create books that would be pieces of art themselves. Yael says, "So many parents these days collect their children's art and it ends up in a bin or bag in the closet. They don't want to throw it away. We thought it would be great for people to have a coffee table quality book to display and have forever." Jumbo Dog offers 2 kinds of books–a stunning glass cover book with a leather back, as well as a beautiful hard cover which features one image that wraps entirely around the book.
They knew they would need a wide format scanner for artwork and photo equipment for the "pinch pots" and other things like masks that kids create in their art classes. So with a major investment up front, the two women got organized.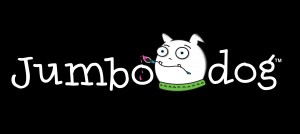 Wanting to first form an LLC, they needed a name. Yael's bulldog Jumbo, seemed like the perfect place to start. With Yael drawing a cartoon of Jumbo, the logo took shape, – Jumbo Dog Art Books was born. Creating books for themselves with their own children's art, they tested several sources.
Jessica and Yael chose the provider that could deliver the kind of product they wanted to offer with rigid pages and high quality photographic silver halide paper. Seeing one of their books you know there is value in the creative vision these two women see in your child's artwork.
Working together came naturally. "It was very collaborative and we each had a different skill set. Yael takes care of the finances and I work on the marketing." So how do the logistics work? They pick up the art, scan and photograph it, design the books, and then send a proof of the book to the client before placing the order. Clients have three options as far as book size, and four options for number of pages.
Books get made for celebrations, sporting events and as special gifts. They even take photos of actual things like trophies to include in some books. The women plan to scale by offering their books nationwide. One client said when she got the finished product, "I don't think words can describe how wonderful this is. It literally brought tears to my eyes." Another said, "I am in TEARS… this book is so beautiful, so special and just amazing! The girls are so excited about this surprise for Daddy… and I am too!" Making something that families will treasure – now that's a good idea for a venture.