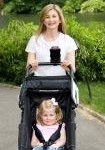 Digging through her bag, which was strapped on her stroller to find her ringing phone, probably her pediatrician calling back about her sick child who was now crying in his seat in the stroller, Leslie wished she had better access to her phone….and the ringing stopped, just as she found it. Leslie Perlman, at the time, a mom to two kids under 4 and a third on the way, related her story to her brother-in-law, also a parent, and the two wished someone would make a phone holder that would strap to the stroller like a water bottle straps to a bike. Light bulb!!! Leslie thought, why don't I make that?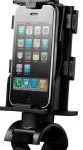 As a real estate tax attorney, working full time until she had children, now freelancing during the busy seasons, Leslie had no prior experience in creating a product other than her one attempt that ended when a patent search was negative. Reaching out to family and friends – turns out a friend of a family member was in plastics manufacturing although not the kind Leslie needed, but he recommended the right person.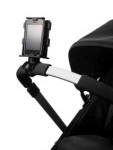 Then her research began – which smart phones would the device hold and what sizes were those phones, how would the device attach to a stroller and what was the average circumference of most stroller handlebars, what would she name the device, what would the logo be, how would she package the item…. and on and on. Leslie dealt with each question as it arose and learned as she went along. She found a new graphic designer for the logo and packaging, a young photographer to take photos, and her sister, Lisa was a huge help. Lisa a new mom herself, had just left the magazine world when her son was born and became the PR and marketing arm for Leslie's fledging company.
"I never thought I would make this happen. I'd started other things and stopped, but it was important that I saw this through." Initially filing for a provisional patent gave Leslie a year to get things together before filing for a full patent. Self funding her project she was in for less than 5 figures initially. She also hired a lawyer to Trademark her name and slogan, "texthook – A dashboard for your mobile life."

"My mission was to make mom's lives easier. With their smart phone secured in the Texthook, I could see moms playing music for their kids during a walk or easily viewing their fitness apps while using their stroller for exercise." Getting the mold built in China was her first big expense but she was getting traction with the invention. However, she wanted to manufacture in the US and found a local firm in New Jersey. The phone holder, attaches to any handle bar and accommodates all types of phones.
Now the selling began. With a prototype strapped to her stroller and the kids in tow, Leslie hit the streets of Manhattan to visit baby stores. Seeing this unique product in use, the buyers loved it and Leslie got her first orders. Storing units in her apartment became a problem as orders increased, so a fulfillment company was brought in to store and ship units from off site, a much better option.
"Luckily my kids were younger when I first started and they napped a lot, that's when I worked, or after they went to bed at 7:00, I'd work till 11:00." With her kids older now, they love being involved and seeing their mom's invention on other strollers, "Mommy, look, they have a Texthook." Or, "Tell them about it, mommy, they don't have one." Leslie says, "My kids are really involved, they've been with me every step of the way, especially the initial selling. "My husband helps with the billing and accounting so it's truly a family affair." What's next – selling the Texthook to fitness buffs for treadmills and exercise equipment and then perhaps to the grocery cart market.
Beginning with the idea in December of 2008, taking the first prototype to a Nursery school fair a year later, and now the Texthook is being sold in Australia and Japan, Leslie's company grew quickly. After the Today show had a segment called "Pimp Your Stroller" and the Texthook was featured, the orders went through the roof on Amazon and subsequently Leslie got an order from her first national chain store, buybuyBaby. "When I took this on I never thought I would have a business, so it's incredible to see what I've created."
Buy yours from Amazon here.
Contact: www.thetexthook.com
VentureMom Tip
Create a solution for a problem.