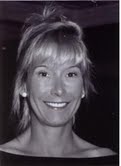 In her Bikram yoga class, she noticed women putting drops of oil on the edges of their mats and wondered why. Cheryl MacCluskey learned that the women were using essential oils for the calming effects created by the aromas. She went on a quest to learn more about the oils and their healing effects.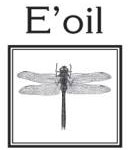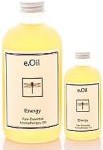 "I've always been a health nut and practiced yoga every day." Cheryl discovered that over 4000 years ago, the Greeks used essential oils for medicinal purposes. She also didn't like the list of chemicals she found in the beauty products she was using every day. So she decided to create her own line of skin care products and began with the oils.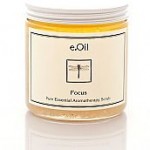 Doing her research took over a year and half but using cold pressed avocado oil as her base, Cheryl created emotional and physical oils. "Avocado oil is a natural moisturizer that can be scented with natural fragrances that effect one's emotional and physical well being." The emotional eOil addresses happiness. The physical eOils address anti-aging, anti inflammation, circulation, and toning. Creating a logo, she used a dragonfly on her label to symbolize peace, happiness and new beginnings.
Cheryl says, "The oils are organic, paraben-free and contain no chemicals. They have a renewing effect on your skin and the natural anti oxidants in the oils, fight against dry, dull, inflamed skin. " And she believes that the aromatic benefits of the essential oils are absorbed through smell to help feed the body, mind and soul. The line also has scrubs in all of the scents .

EOils and scrubs were first given to Cheryl's friends and family so she could get feedback. They loved the product and wanted more. She then reached out to massage therapists, healthcare professionals and spas and the orders came in. With this overwhelmingly positive response, Cheryl now plans to expand her line to include toners, cream and lotions under the name Younger You. She says, "I realized that there was a need for a natural skin care line." With a production company in New Jersey, she's ready for growth.
Getting a friend to help with her web site and a college intern to help with fulfilling orders, e.Oil is on the way to becoming a known brand in the field of natural beauty products. The e.Oil will even be seen in an upcoming film with Diane Keaton – who herself is a naturalist and Cheryl hopes will love the product, "That would be a great endorsement."
VentureMom Tip
Take notice of what your friends are using and why.