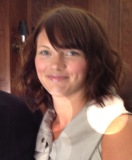 Working for a retail furniture store she loved the home design world, but when Sarah Swanson had kids, she had to make a choice. Her husband had his own business as a ice hockey, goalie coach. Sarah went to work with him so she could have more flexibility. But she felt something was missing, "I didn't have a real connection to what I was doing."
Spending a great deal of time perusing design blogs, Sarah thought she could blog as well. So in 2009, she began… without a clue as to what she was doing. She built a template and learned as she went along. "I gained readers and the blog was an evolution as I learned more about the technical side and how to use social media," she says, "I spent a lot of time on other people's blogs submitting comments. I had to put myself out there." This is how her number of followers grew.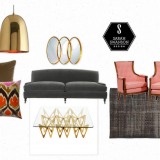 Still working with her husband, the blog was done in her spare time and didn't produce any income. "But it was a great outlet for my creative design side." In 2010, she had a thought. "I offered to design via email by provided a product mood board for the room clients want to redecorate." And this new idea took off as she began to get clients and referrals. The price point is a reasonable $235 for a living room and less for smaller projects. Sarah begins with a questionnaire that covers style, budget, existing furniture, and family lifestyle. She has the client email a photo of the room they need help with, photos of rooms they like, and photos of specific things they love.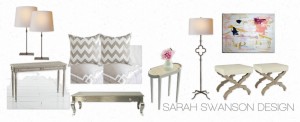 Then the fun begins. Sarah is very good at grasping a person's style and will keep revising the board until the client says "wow, I love it." But she says, "I usually hit the mark on the first or second pass." Giving the client links to products at various price points, they can then order the items on-line. Sarah provides links to everything from pillows, to rugs, lamps, artwork, furniture, and trays. And Sarah will make suggestions for recovering large pieces that a client would like to keep. "I'm very good at working within a budget. Design boards are a cost effective way to get design advice." This is like a Pinterest board designed for a client's specific needs.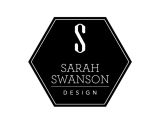 And if you have a question, like a source for pillows or advice on a paint color, you can get an answer for $10 on Sarah's web site. Her girls, ages 6 and 4, think what mom does is very cool – designing from afar. "I never dreamed my blog would lead to this. I now do 4 or 5 boards a month and it's so much fun." Sarah also has a full service design business in her home town of Calgary, Canada, offering her "classic, timeless, polished style." So where will this lead? Who knows, but she wasn't afraid to put herself and her talent out in the world through a blog. Spending time shopping and sourcing, she says, "It's a good feeling, doing what I love."
Contact: sarah@sarahswansondesign.com, www.sarahswansondesign.com, https://flourishdesignandstyle.blogspot.com/
Mention VentureMom and receive $5 off of your design board.
VentureMom Tip
Start a blog around a passion and see where it takes you.