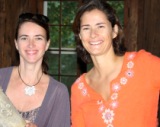 What to do with all the cool vintage furniture that she couldn't resist buying at estate sales, led her to a venture. Sybille Campbell loved to collect 18th century furniture reproductions. "I considered myself a hunter/gatherer." But she wanted to make this 1920s furniture look authentic. Her friend Anne-Laure, also from France, taught her how to strip and repaint to give the wood a rich patina. Then using elegant fabric to recover the upholstery, the look was complete.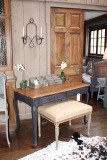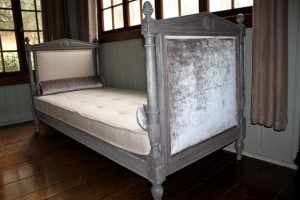 With a new house to furnish on a budget, tag sales became an obsession and her collection of furniture grew beyond what she needed. Refurbishing pieces and placing them in her home, friends universally loved the look. They asked Sybille if she could give their things the same French-inspired feel or source unique items for their design needs. Sybille says, "Anne Laure and I realized there was a void in the market for fun and trendy vintage pieces and decided to start a business together.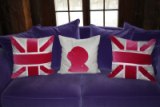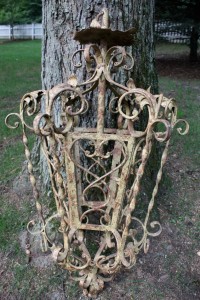 The two moms set up a workshop in Anne-Laure's house and a showroom in Sybille's barn in Silvermine. The first event to showcase their newly named venture, La Grange de Silvermine, was a 2 day barn sale. With that sale, Sybille and Anne-Laure's reputation was established. Since then, the two women have been busy gathering new items to refurbish. With five kids between the two, ranging between 5 and 9 in age, their children play together while the two women transform chairs, tables, benches, sofas, and desks. Accessories, including pillows and lighting, are also collected, repaired, made and offered in the showroom.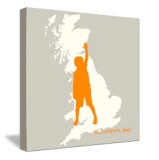 On top of their collection of furniture and home décor accessories, La Grange de Silvermine offers a unique form of Pop Art name Syb'lhouette another tribute to the 18th Century, and the classic European silhouettes. From a profile picture of the subject – kids, adults, pets, objects – they create a colorful silhouette sometimes pairing the subject with something else. The final product can be printed on canvas, plexi glass, metal, and most uniquely – pillows. These are custom made for clients and make an individual statement to a room's decor.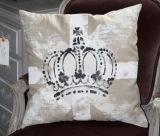 Sybille and Anne-Laure show their work by appointment and organize several events throughout the year. Completing about 10 – 20 pieces of furniture a month, the inventory is ever changing. Asked whether there have been pieces that are hard to part with, Sybille says, "There are some things that I don't want to sell, it's hard to see them leave the showroom."
The best part, says Sybille, "This is my kick. I love to visualize something with refinished wood and new fabric. We're very proud of each piece."
Contact: lagrangeds@gmail.com, www.lagrangeds.com
Mention VentureMom when you shop with La Grange de Silvermine, to receive 10% off. All items shown in the VentureMom Shop are 10% off of retail.
VentureMom Tip
Bring the elements of your culture to your venture.