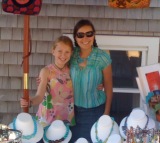 Who knew a silver-smithing workshop would lead to a new venture. Meg Anderson has always loved making jewelry, even as a child, but her first endeavor was graphic design in Washington State. When she felt something was missing, Meg decided to travel. She ended up in Jackson Hole where she was more able to explore her creative side. "I was so inspired there to create and I knew I had to be involved in the artistic world," she says.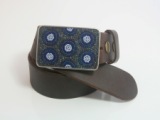 The workshop lead to many nights in the jewelry studio. And when Meg fabricated a blank belt buckle, she wasn't sure how to adorn it. She began playing around with the small beads she used for jewelry and ended up creating patterns out of the beads and carefully gluing them into the buckle frame. Meg had worked with pieces of tile in the past, creating mosaics, so when she started using the beads to create patterns, it was natural to her. "I wanted something that popped with color and texture and when I saw what I could craft, I knew it was unique."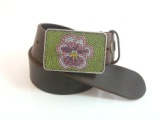 Wearing her new belt creation, the response to it was great. "I knew I had something that would be marketable. So I made more." Getting a friend help her cast the belt buckle blanks , she was able to spend her time on the inlays. Each buckle is a one of a kind piece of wearable art that Meg says takes her about 10 hours of meticulous labor. Meg began incorporating the beaded mosaics into earrings and pendants and decided to showcase her work at an art fair in Jackson Hole in 2002 and then on line in 2004. This provided the creative outlet she was craving. In addition to her new line of jewelry and belt buckles, she had a job at an art center.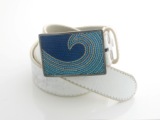 Then came a move out east. Her husband is an avid huntsman and the couple, along with their daughter, work towards sustainable living. They try to only eat what they kill, catch and grow. Working to make use of all that they can, Meg began using the deer antlers from her husband's hunts to incorporate into her jewelry. She created Nantucket Antler Cuffs – bracelets woven with leather and hand carved pieces of deer antlers used for the closures. These special toggles allow the bracelets to be sized as needed. Working with different beading, the bracelets became a big seller in her line.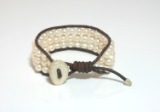 "I love making my own way by working for myself. It's flexible enough that when I feel inspired, I can create. That keeps everything fresh, fun and new." Where is she going to take her bead mosaic designs? With her line in two retail stores already, she is working towards getting placed in a major catalogue like Sundance, a perfect fit for this natural gal and her creations.
Contact: megandersonart.com, meganderson5@yahoo.com
VentureMom Tip
When something seems right, go with it.