New addition to the VentureMom Store!!!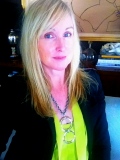 Do you have a venture you can't wait to get back to? That's how Tracey Heinemann feels about creating her jewelry line. "When you absolutely love what you do, you know it's right for you." Her past career in marketing beverages, Tracey learned that the look and feel of the design and packaging is critical to the success of the product. She saw how a unique piece of jewelry paired with a white t-shirt and jeans could change the whole look. "I loved styling my friends and found myself wanting to create jewelry to complete the look we were working to achieve."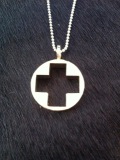 Sourcing materials and developing product, selling her creations was a natural extension. She began with trunk shows and Holiday Boutiques to build her brand awareness. But she says pitching Henri Bendel really opened her eyes. "They have what they call 'Open See', where you present your line to their buyers for an in-store trunk show. I showed up at 4am and was number 9 in the line that eventually stretched down 5th Avenue. It was amazing to see what everyone had to present and I learned so much talking to the people who were there to pitch. " In the process, vendors get 90 seconds to tell their story and show their wares.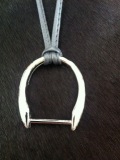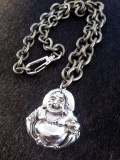 Tracey's jewelry line was chosen. "They said, 'we love it, you're in', and I couldn't believe it." This vote of confidence gave Tracey what she needed to move forward. Reaching out to local boutiques and home design stores was the first order of business in the fall of 2010 and now she's in 12 stores in Connecticut, Massachusetts, Florida, New York and Wyoming.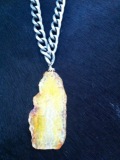 With her brand name starting to build, Tracey is experiencing some growing pains and may consider part-time employees to meet the demand for her cool chic jewelry. Her two boys, ages 10 and 14, sometimes help with production by polishing and packaging. "I love teaching them about running a small business and think it's a great learning experience for them." And her husband sees the smile on her face and says, "Keep going."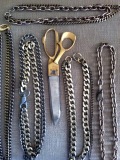 So what is her style? "I'm all about layering pieces, I love chunky chains paired with unique elements like polished stones and replicas of coins from all over the world." For her signature piece she casts a metal Buddha and puts it on a gun-metal chain. Tracey's inspiration comes from her travels and she hopes to venture further to source unique materials to use in her designs.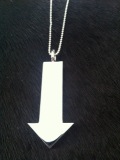 White Moth Jewelry has six lines, Signature, which includes the Buddha, Element, which showcases natural stones, Resort, fun, summer pieces, Links, which is made up of her chains, Found, which uses coins and things from around the world, and her new line called Drive. These designs are inspired by signs you see on the road like her silver arrow on a ball chain.
So she knows she's in the right business by her continued passion for what she does. "I feel great when I see a women wearing a piece I created. I love empowering women through jewelry."
Contact: whitemothjewelry@gmail.com, www.whitemothjewelry.com
VentureMom Tip
Create unique brand awareness for your product.