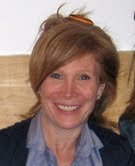 Being from the South, her mother instilled in her the importance of proper etiquette. But Jill Ciporin never dreamed she'd be the one teaching others the intricacies of good graces. Starting her career in television at CNN, Jill became an associate producer of a morning show in Atlanta. Her husband's job took them to New York and kids took their family to the suburbs.
Once her two boys were launched into grade school, Jill began to think about going back to work. Perusing an article about the importance of manners, she started wondering why there wasn't a class available locally to give kids the basics of etiquette. "I'd love something structured for my two boys and I thought I might be the one to teach a class." But she knew she needed some credentials and did her research on courses. As a gift from her husband, in 2009, she took a three-day Emily Post seminar. "It was a big investment and I never sign up for workshops like this but my husband wanted me to pursue this venture I'd been talking about forever." So off she went.

With her certification, she developed a fun format and curriculum to offer 5th and 6th graders the basics of etiquette. Her goal was not only to teach table manners but also other skills including greeting, correspondence, and elevator etiquette. She started with some focus groups of neighborhood kids to hone her skills and then reached out to schools to get her first students. Offering her program as an after-school class, many times she is paid by the Parents Association. The class is made up of three one-hour sessions at $125 per child.
There was a huge need; in one class offering, she had over 60 kids sign up. Clearly she had struck a chord and found a call for something that wasn't being met in her community. And Jill put another spin on her manners program as well. Jill's mother, a true Southerner, several years back, had created a place mat that showed children where eating utensils go and what they are used for. Jill wanted to bring the learning place mat back but make it modern and appealing to everyone.
Back to her research; turns out her father had some manufacturing connections and helped her figure out how to create a green, made-in-the-US, product, out of waterproof paper. A friend turned her on to a graphic design student studying at Pratt who could help design the mat. Using several colors, Jill got input again from her neighbors and friends' kids to develop the final product. It's called lovelymanners: At the Table and has been a hit. Winning the Yupo award for graphic design, the mats can be found in stores like Splurge in Greenwich and Mrs. Monogram in Bedford and on websites like OpenSky and Fab.com as well as her own.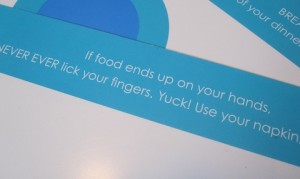 So Jill took an idea that her mom had come up with, made it modern, and combined a class with it. "Each student gets a free set of mats." Ironically finding a manufacturer in NC, her home state, the company ships orders from there. Using the web site shopping cart program, Shopify, customers can order the mats on line. Her first order came in the Spring of 2011 and sales have been increasing since then.
Her goals now include marketing the manners class to more venues. "I'd like to have at least one program going a week." Adding a blog and additional products to the line is on her list of things to do, too – who among us can't use more tips on using good graces.
Contact: Jill Ciporin at lovelymanners@gmail.com or www.lovelymanners.com.
VentureMom Tip
Take an old idea and modernize it.