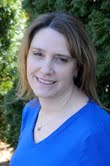 Attending a birthday party for her niece where the 7 year old guests got to make and decorate their own cookies, she thought "what a great idea." Due to downsizing of her company, Carrie Memmesheimer was laid off from her Technology Business Group Manager job at a human resources company and the cookie making party idea that had always been in the back of her mind, kept coming up. She had been a baker all her life but had no formal training and starting a business seemed like a scary proposition. So Carrie did what she always did when she started on a project – she got some help.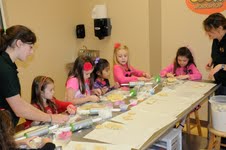 Reaching out to the CT Small Business Development office for guidance in a writing a business plan, Carrie was assigned a coach who gave her direction in putting together the numbers. She had her Masters degree in Management Information Systems so knew the basics, but had never written a plan for herself. But off she went, "When I get an idea, I go forward. I'm not a procrastinator. I set schedules and deadlines and push through to get it done." She and her coach worked to bring her cookie factory idea to life.
Realizing that she didn't need a high traffic store front, she saved on high cost rent and bought a building that she could build out with a commercial kitchen herself. Making the store a destination for clients, she named her new venture – The Cookie Workshop. Researching loan pricing for the kitchen equipment and other startup costs that she would need, she found that a home equity loan was the least expensive form of funding. Carrie say having the strong support of her husband, Rob, was critical; "He was 100% on board."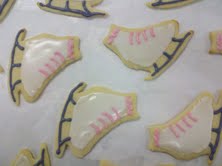 Now it was time for the fun part. Carrie created four flavors of nut free cookie dough that customers could choose from – chocolate, vanilla, strawberry and chocolate chip. Offering cookie making parties for kids ages 3 – 16, as well as Mom's Night Out get-togethers, party guests get to roll out the dough for a complete batch of cookies and use more than 200 shapes of cookie cutters. All of her parties are theme-based, matching the paper products, cupcakes, and cookie decorations.
Carrie wanted the kids to be able to see the baking process, so she built her space with a glass enclosed kitchen in the middle. The children can watch the cookies bake and while they're waiting, they decorate the box that will carry their creations home. Once done, the decorating begins, "Guests can use various colors of icing and sprinkles to decorate a batch consisting of 12 – 30 cookies."
Everything is home-made with no preservatives and the kitchen and recipes are nut free. They also offer a variety of dairy free, egg free, and gluten free cookies and cupcakes so kids and adults with allergies can feel safe to celebrate with their friends.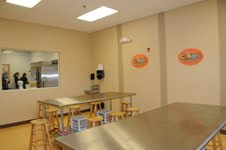 Another idea Carrie offers is stop-by baking, "So you don't have to have a party to come by with a few kids and make cookies on an afternoon." And she has some schools bring in groups during school hours to bake, as a reward for special achievements. Aprons and chef hats are available to give young bakers the whole experience. The Cookie Workshop opened in the Fall of 2011 and the number of parties each week is in line with her projections.
And she not stopping there, Carrie offers preordered cookies and cupcakes, with just a couple of hours notice. Cookies come in a variety of flavors, can be done in almost any shape and decorated to client specifications. Cupcakes are all baked in themed papers. All baked goods can be gluten free and dairy-free by request. Wow, so many good things to choose from.
Soon, Carrie will be offering her baked goods and nut free cookie doughs on line and available for pick up or shipped right to your home. "Having my own business feels great. There is lots of stress and lots of hours and it was so scary in the beginning, but I know I'm building something for me and my family.
Contact: info@cookieworkshop.com, www.cookieworkshop.com
VentureMom Tip
When you need funding to start your venture, do your homework, run the numbers, and draft a plan