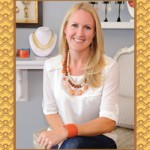 Even with her own line of fabulous jewelry, she had a clientele that wanted to create their own pieces for special outfits. Lindsay Cain worked in marketing, event planning and PR. Designing jewelry was a hobby but when a booth at a trade show garnered her orders from 40 stores – it became a career. She found herself putting together inventory with helpers in her small apartment living room and knew this could not go on forever. But she juggled both jobs for about a year before deciding to take a risk and open her own store. "I was single, so if ever there was the right time it was then."
Seeing that many of her clients wanted to customize their own pieces, Lindsay took the idea of a simple bead store and made it sophisticated, but affordable. Believing that there is a designer in everyone and recognizing a lack of a retail location catering to that concept, she began to craft a business plan geared toward opening the city's first high end boutique that would help customers design their own jewelry.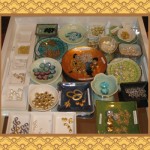 With a small business loan, she opened the doors of Femmegems in an up-and-coming section of New York City, "NoLiTa". She offered jewelry design parties for groups of women; her event planning experience coming into play. And when Caroline Ray, a known actress, had a gathering for her bridal party in the shop, the New York Times picked up the story and Lindsay was on a roll.
Henri Bendel in New York and Marshall Field in Chicago both had her open in-store boutiques with this unique idea. During this time, Lindsay focused more on her growing events business in New York, and ended up moving the store to a studio for parties only and moving the retail store to Greenwich, CT. And if that wasn't enough on her plate, she got married and had a baby during this time.
Femmegems in Greenwich provided something new and exciting and fit the needs seen in the current economy. "We offer designer jewelry collections for under $500 and custom-made pieces by our clients are per their own budgets. Customers can bring in a photo of something we can recreate for them or they show us an outfit they need to match with earrings or a necklace."

Jewelry design parties were such a hit that Lindsay was booked with 2 -3 gatherings a week during the evenings. Walls of stones, pendants, and other design elements put the raw materials of extraordinary, personalized jewelry at the customers' fingertips. The party goers got to be creative while enjoying wine and conversation with their friends. Then the most obvious thing happened – the women started asking Lindsay to have parties for their daughters. "I couldn't close the store for 2 hours on a Saturday, when we were in retail mode." But the demand was so high that when the back-room of a store a few doors down became available, Lindsay jumped and opened "Little Sparklers" to accommodate the younger clientele.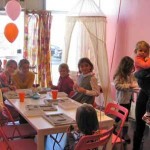 Partnering with Crumbs Bakery for cupcakes and a nail salon for mini pedicures, Little Sparklers provides everything a girl age 7 – 14 could want in a party, in a fun girly setting.
"As the face of the business, people want to work with me." Lindsay says, and Saturday is her busiest day. Her husband has her 4 year old son when she mans the store. She is a hands on entrepreneur, "I'm involved in everything – one day I'm the janitor, changing the toilet paper in the bathroom; the next day, I'm meeting with a client who wants a party for 40 people."
Scaling her business model, Lindsay is working to offer her parties off-site, but she wants to make sure it's something that fits with her current lifestyle. "Being a small business owner you are never off the clock and there can be lots of late nights. But I love the things I love about it and I'm working to delegate the things that I can get help with. All in all, I'm diving in headfirst."
Contact: femmegems@msn.com, 203-861-2531
VentureMom Tip
Move your business with you and find a way to offer what your clients are asking for. Go with the demand.