What would you do with a trash bag full of old clothes?  For many, it would be given to charities but for Cheryl Fudge, she had an idea.  She has taken bags of discarded clothing and created a growing empire.  With 20 years in the fashion business designing for a private label, Cheryl Fudge decided to take a risk.  Leaving New York for the vacation venue of Nantucket, she opened her own store 9 years ago offering custom designed clothing for men and women.  What made her unique was the clothing she designed used recycled pieces and vintage items, like her signature halters and belts made from designer scarves.  Cheryl wanted to set a good example for her nieces by showing them how to recycle clothing.  With so many fabulous items that can be repurposed and reworked, she flourished by becoming a green designer.
The other draw to her store that happened organically was Fashion Camp.  With her sewing machine and workroom in the store, kids of shopping moms were enthralled by the process.  With their kids gathering around the work table, the moms could shop while Cheryl entertained their kids.  Giving the children an opportunity to design their own creations, gave her the idea of offering a fashion camp to vacationing families.  Her nieces were her first campers and an exciting idea was born that drew shoppers to her store.  The camp allows kids to make a beach bag, t-shirt, beach towel, or belt, choosing from bins of rick rack, ribbons, patches and yarns.  Campers can attend for a morning or afternoon and leave with a souvenir item that they have designed.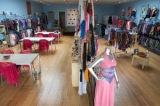 While not a mom herself but a loving aunt, Cheryl's venture supports many moms who work for her.  Her sister ran the Nantucket store this summer and a network of seamstresses assist with her line.  Most of these moms are able to work at home, like the head seamstress, a single mom, who has been with Cheryl since the beginning.  Starting with a few hours a week, this mom now manages a network of moms sewing for Cheryl Fudge Designs.  Expanding with stores in Santa Monica and Malibu, the Fashion Camp and green clothing line is growing and catching the eye of many celebrities.  Fifty percent of the 2700 square foot store in Santa Monica is devoted to fashion camp and drawing stars and their children daily.  In fact, Marcia Brady was in the store recently and Cheryl had to inform the young campers that she was the original, not from the recent Brady Bunch remake.  Stores are now planned for West Hartford, New York City and Georgetown.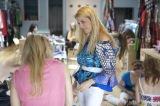 Initially searching flea markets and defunct fabric manufacturers for materials, many sources now come to her to sell their unwanted and vintage items to be used in Cheryl Fudge creations.  With a community spirit as engaging as her designing genius, Cheryl assists local charities and brings her famous clients to help with many causes.  Meeting the founders of Autism Speaks on Nantucket, Cheryl donates camp time to kids with autism. And the camp is not just for kids, she has done Fashion Camps for bridesmaids, birthday parties and Girls Night Out gatherings around the country. Many groups find the camp a great bonding experience and leave with a bag, skirt, dress or their own jewelry creation.  Making our own creations this summer was a fun experience and a great way to bond with my teenager.  We loved it.
So where does the green line of clothing go next; Cheryl is considering stores in Tokyo and London.  With the New York Times recently featuring an article on designers whose environmental aspirations are to leave zero waste when cutting fabric, Cheryl is on the forefront of recycling by using what is already out there.  With design schools now offering zero waste classes, maybe teaching young designers how to repurpose existing clothing is next.  Cheryl says, "Recycling is not easy, but it's important to use what's available and with so much vintage clothing accessible, it's possible."  Not only does Cheryl set a great example by recycling, her clothing is fun, creative and unique.
Contact:  www.cherylfudge.com, 310-393-3333
VentureMom Tip
Let your environmental aspirations meld with your passion to guide your venture.